South Korea's Park Accepts Resignation of Second Premier in Year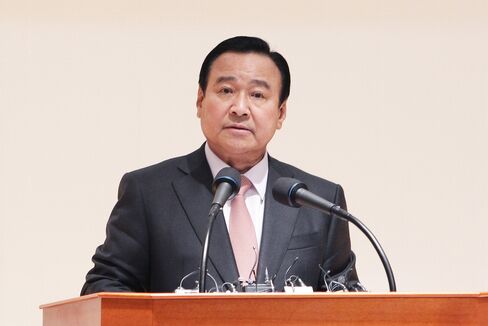 South Korean President Park Geun Hye accepted the resignation of Prime Minister Lee Wan Koo over bribery allegations, the second premier to quit in a year.
Lee, 64, submitted his offer last week to Park, who returned Monday from a 12-day trip to Latin America. He is alleged to have received 30 million won ($28,000) from a local businessman who made the claims before he was found hanged from a tree in northern Seoul.
The scandal is yet another setback for a South Korean government that has struggled to find stability and energize the economy since a ferry disaster last year killed more than 300, mostly young, passengers. Park also must contend with a special election for four National Assembly seats Wednesday, a potential bellwether for next year's parliamentary poll.
"Lee's involvement in the bribery case seriously undermines the administration's credibility," Firat Unlu, Asia analyst at global risk adviser Verisk Maplecroft in the U.K. city of Bath, said in an e-mail. "This diminishes the little political capital Park has to push through necessary structural economic reforms."
Lee, who has denied taking the money, was Park's third pick for prime minister after Chung Hong Won resigned from the post in the aftermath of the Sewol sinking and two other candidates withdrew their names. He announced a sweeping anti-corruption campaign weeks after his confirmation in February.
Sewol Memorial
The allegations against the prime minister emerged just as Park was preparing to attend a memorial for the anniversary of the Sewol disaster and depart for her trip to Colombia, Peru, Chile and Brazil. The source was a note found April 9 with the body of Sung Wan Jong, the head of Keangnam Enterprises.
The note included the names of eight Park political allies, including Lee, followed by six numbers believed to be monetary amounts. Hours before his death, Sung had told the Kyunghyang Shinmun newspaper that he had in 2013 given money to Lee, who was then running for a National Assembly seat.
The president's approval rating rose 1 percentage point last week to 35 percent, Gallup Korea said Friday. Her support fell to a record low of 29 percent in January after allegations that a former aide attempted to influence the decisions of her office. Prosecutors concluded those claims were unfounded.
"Lee's resignation offer was the best option possible to minimize repercussions from the scandal," Hwang Tae Soon, a political analyst at the Wisdom Center in Seoul, said by phone. "It may help unite conservative voters in the by-elections."
Before it's here, it's on the Bloomberg Terminal.
LEARN MORE