Restaurants
The London Restaurant Employing Immigrant Women in Need
Mazi Mas, a social enterprise that supports migrant women through training and experience in the food industry, is looking to expand overseas from its base in London, where it runs a pop-up restaurant and a catering operation.
"I'm talking to people in Berlin who are in the process of trying to set it up there," the organization's founder and chief executive, Nikandre Kopcke, said in an interview. "We are attacking a global problem in a local way, and it resonates anywhere [that] migration has caused big changes and upheavals in the urban environment.
"I would love to see it happen in my native New York. Nothing is happening there yet, but I am gradually building the American audience for this. It's entirely about local people deciding they want to take it on and drive it forward.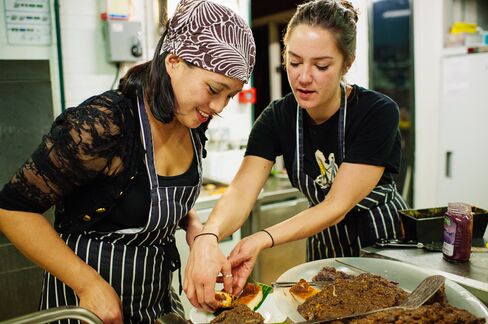 "New York is different from London in that a lot of those immigrant communities are now settled, whereas in London you see a lot of recent immigration," Kopcke added. "What I love about London is particularly the hyperdiversity which sees Poles living next to Ethiopians, living next to Ukrainians, next to Somalis. It's amazing. But I do think it would work in New York with different populations."
Mazi Mas is currently working with women from Brazil, China, Ethiopia, Iran, Jamaica, Nicaragua, Peru, the Philippines, Senegal, and Turkey, Kopcke said. It's operating the pop-up restaurant at Ovalhouse arts center in south London. It helps them gain work experience, including placements in restaurants, and offers advice on setting up their own businesses.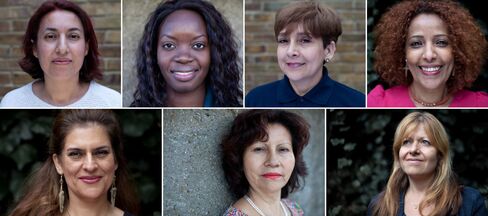 "The idea is to create a platform for women to showcase the amazing culinary skills they've developed over the years caring for their families and to support them to set up their own businesses," Kopcke said.
The women prepare dishes they learned to cook at home. The menu changes daily. When I visited on April 23, there were Turkish dishes created by Ezgi Koyupinar, who is half Syrian, half Turkish and comes from Adana, in southern Turkey. She was helped by Azeb Woldemichael, who was born in Addis Ababa, Ethiopia.
Dishes included a starter of borek (a pastry) with spinach and feta for 3.50 pounds ($5.30) and a main dish of kofte lamb meatballs with potato and tomato, served with bulgur (8.50 pounds).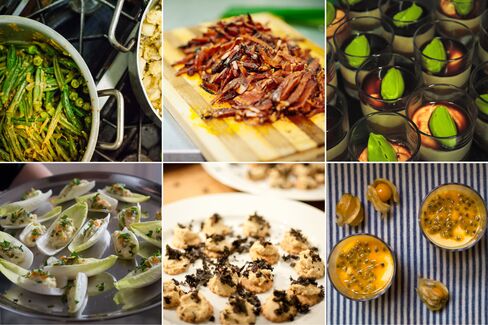 "All of the women that we work with are mothers, and motherhood, unfortunately, can be a real obstacle for women, particularly for women from migrant communities, because it means that they have to take time out from their careers," Kopcke said. "When they try to go back, they find that the jobs aren't necessarily waiting for them.
"The other thing that we see a lot of is that qualifications aren't recognized here or aren't held in high enough regard, so women who had careers in their countries of origin come to the U.K. and find that they are only qualified for cleaning jobs." Kopcke says she's also seen much discrimination against women who can't speak English well.
Kopcke herself was born in Berlin to a German father and a Greek-American mother and raised in New York. She attended the United Nations International School, where she developed an appreciation of multicultural diversity. She went on to study sociology at Edinburgh University and took a master's degree in gender, development, and globalization at the London School of Economics.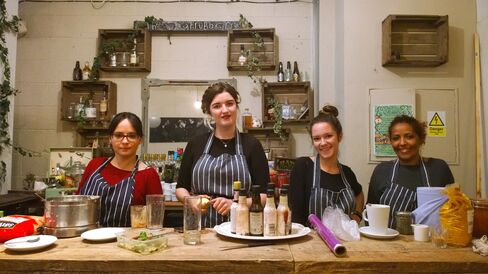 Mazi Mas is backed by the London Community Foundation, which supports charities and community groups across London. Mazi Mas has also raised 16,000 pounds ($24,200) through crowdfunding. The current pop-up ends on May 30. After that, the group will focus on catering for weddings over the summer. Another temporary restaurant is planned for later in the year and again in early 2016.
"One of the amazing things about what we do is we use something that happens in the home and turn it inside out and do it in the public realm," Kopcke said. "It's an experience that easily transitions from being an isolating activity to one which can actually connect you to the public.
"And, of course, this brings amazing, unusual, authentic ethnic food to Londoners. The best meals you're ever going to have are those you have when people invite you to their homes to eat. And we are securing dinner invitations for everyone."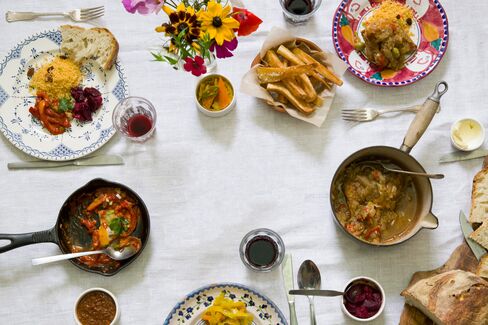 Before it's here, it's on the Bloomberg Terminal.
LEARN MORE