Komatsu's Profit Falls 15% Amid Growth Slowdown in China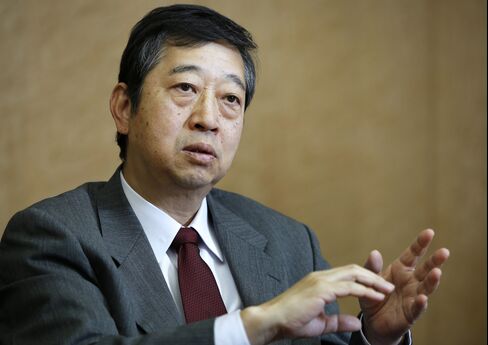 Komatsu Ltd. reported a 15 percent decline in fourth-quarter profit after slower economic growth in China cooled the country's construction market and undermined the appetite of mining companies to invest in resource-rich nations.
Net income fell to 37.5 billion yen ($315 million) for the three months ended March 31 from 44.1 billion yen a year earlier, according to Bloomberg calculations based on full-year results released Monday.
The slowdown in China, the world's biggest consumer of raw materials, means demand for mining equipment continued to slump as resource suppliers remained cautious. China's economy expanded at the weakest pace since 2009 last quarter, with output, investment and retail data pointing to a deepening slowdown.
Komatsu's sales dropped 3.9 percent in the three months ended March 31. For the full year, Komatsu's net income fell 3.5 percent to 154 billion yen, while sales rose 1.3 percent to 1.98 trillion yen, according to Monday's earnings statement.
For the current fiscal year, Komatsu expects net income to fall about 10 percent to 138 billion yen, while sales decline 5 percent to 1.88 trillion yen. The construction-equipment maker expects sales in all regions except North America to decline this year.
"The severe environment will continue" this fiscal year, Chief Financial Officer Mikio Fujitsuka told reporters Monday at a news conference in Tokyo. "We expect a further decline in large mining equipment."
China Weakness
Sales of construction, mining and utility equipment fell 3.4 percent in Japan last year to 330.6 billion yen, Komatsu said. Revenue from the Americas rose 9.8 percent. China sales plunged 32 percent.
In another sign of the ripples China's slower growth is sending throughout the industry, Hitachi Construction Machinery Co. forecast Monday that industry demand for excavators in China will fall another 22 percent to 23,000 units this year after a 40 percent decline in the past year. Global demand for excavators is set to fall 7 percent, the company said.
Tokyo-based Hitachi Construction, which is 50 percent owned by Hitachi Ltd., on Monday said annual net income dropped 21 percent last year to 22.9 billion yen. Sales rose 1.6 percent to 815.8 billion yen.
Caterpillar Inc., the world's largest construction equipment maker, last week raised its full-year earnings forecast after North American sales improved and its energy and transportation business sold a greater volume of machinery.
The Peoria, Illinois-based company still continues to suffer from the severe slump in mining and construction outside of North America. It has closed factories to adjust to lower demand.
Structural reforms in China and uncertain monetary and fiscal policy in the U.S. remain risks identified by the company.
Before it's here, it's on the Bloomberg Terminal.
LEARN MORE