Israel Kills Armed Militants From Syria in Strike on Golan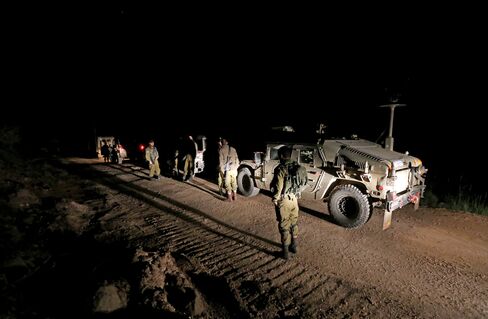 Israeli aircraft killed four armed militants who crossed from Syria into the Israeli-held section of the Golan Heights to attack Israeli troops, the military said.
The militants were carrying an explosive device, an army spokeswoman said by phone, speaking on condition of anonymity according to military rules. The military didn't say whether the armed men were Syrians or members of the Lebanese Hezbollah militant group backed by Iran.
Tensions have been escalating recently along Israel's northern frontier. Over the weekend, Al Jazeera television reported that Israeli fighter jets targeted Hezbollah and Syrian army locations on the border between Syria and Lebanon. Israel has neither confirmed nor denied carrying out the strike.
Since conflict erupted in Syria more than four years ago, violence has spilled over multiple times into the southern Golan, which Israel captured from Syria in the 1967 Middle East war and annexed in a move that isn't internationally recognized. Amid the Syrian fighting, media have reported multiple Israeli attacks on Hezbollah arms convoys and positions in Syria and Lebanon. Israel, which has declined to comment on those reports, has also identified enemy fire from rebel groups fighting the Syrian government who control parts of the northern Golan.
Israeli Defense Minister Moshe Ya'alon said late yesterday that his country wouldn't allow Hezbollah to secure advanced weapons systems.
"We won't allow the transfer of high-quality weapons to terrorist groups, including Hezbollah, and we will know how to reach them and those who have sent them, anytime, and in any place," he said.
Despite the recent flare-up, neither Hezbollah nor Israel is seeking a war at this time, Cameron Brown, a research fellow at The Hebrew University of Jerusalem, said in a telephone interview.
"They just want to impose costs and get their way without starting a war," Brown said. "For Israel, it's to stop the transfer of strategic weapons, and for Hezbollah, it's to be able to transfer strategic weapons."
Before it's here, it's on the Bloomberg Terminal.
LEARN MORE