Iron Ore Bull Rally May Last for Zhu as Morgan Stanley Sees Peak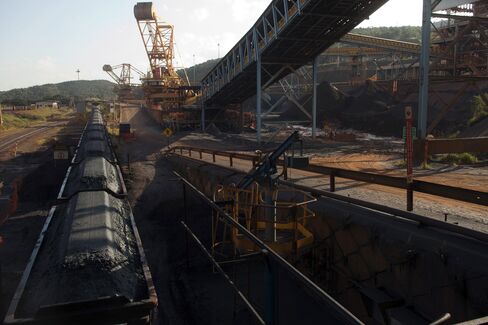 Iron ore may extend a bull-market rally should the biggest producers slow expansions further and start to cut output from their higher-cost mines, said Michael Zhu, former global sales director at Vale SA.
The raw material will probably increase to average $60 to $70 a metric ton this year, Zhu, president of Hong Kong-based trader Millennia Resources Ltd., said in a phone interview on Monday. So far this year, it's averaged $59.82 after dropping to a low of $47.08 on April 2. The commodity remains 69 percent below its 2011 record and Morgan Stanley on Monday said prices will peak within the next few weeks.
Iron ore entered a bull market on Friday, rising more than 20 percent from its closing low, after BHP Billiton Ltd. said it will slow the pace of expansion in Australia and some smaller suppliers shuttered mines. A floor in prices may be forming, according to Pacific Investment Management Co. The fourth day of gains for benchmark prices on Monday is the longest run this year.
The "market is mainly in the hands of the Big Four: if just one takes a little action, it has a big influence," said Zhu, referring to Vale, BHP, Rio Tinto Group and Fortescue Metals Group Ltd. "If I were the miners, I'd say our responsibility is to satisfy the demand of the steel industry. I don't need to produce more, I don't want to produce less."
Highest Level
Ore with 62 percent content at Qingdao rallied 2.2 percent to $59.09 a dry ton on Monday, the highest level since March 6, according to Metal Bulletin Ltd. The commodity slumped 47 percent last year and posted five straight losing quarters to March as an expansion of low-cost supplies spurred a global surplus and slowing growth in China, the biggest user, hurt demand.
Iron ore may rise a further $10 to $20 in the short term before peaking in the next few weeks, Morgan Stanley's analyst Joel Crane wrote in a report on Monday. Sentiment in China's steel industry has been so negative this year that any trade recovery this year seem unlikely, he said.
Shares of BHP fell 0.7 percent to 1,553 pence in London, snapping three days of gains, as Rio lost 0.3 percent to 2,996 pence at 12:28 p.m. local time. Earlier, Fortescue jumped 16 percent in Sydney and last week Brazil's Vale surged 25 percent.
BHP will miss its target of raising production to 290 million tons a year by mid-2017 as it defers works at Port Hedland, the company said April 22. Still, it increased fiscal 2015 production guidance to 230 million tons from 225 million, which compares with output of 204 million in fiscal 2014.
'Upside Constrained'
"We think any upside in the iron ore price will be constrained, with excess supply evident through to 2017," Australia & New Zealand Banking Group Ltd. analyst Natalie Rampono wrote in an e-mail. BHP's "action could reduce future supply growth by 20 million tons, but BHP production remains on track to hit 270 million tons without further investment."
Iron ore fell as growth in China slowed, with data for the first quarter showing the weakest expansion since 2009. Steel demand in the country that buys two-thirds of seaborne ore will drop this year and next, according to the World Steel Association.
To combat this year's slowdown, the People's Bank of China, the country's central bank, relaxed rules on home purchasing, cut interest rates and reduced the amount of cash that banks must set aside as reserves.
"Structurally Weak"
"China's backdrop is still structurally weak, with China's domestic steel market showing little sign of rebounding post the winter slowdown," Rampono said. "Our view is that iron ore prices will likely remain under pressure with China's steel consumption forecast to fall 3 percent, or 25 million tons, in 2015, the first annual decline in steel demand since 1980."
While most supplies from the largest producers are low-cost, about 10 to 20 percent of their output does have higher costs, and such output should be cut, according to Zhu. A price of about $60 to $70 is good for everybody, he said.
"We see the recent rebound as bringing the price back into line with our expectations," said Paul Bloxham, chief Australia economist at HSBC Holdings Plc in Sydney, which sees an average of $50 to $60 in 2015. "Chinese demand is expected to lift, supported by further loosening in monetary policy and the government's plans to boost investment."
Before it's here, it's on the Bloomberg Terminal.
LEARN MORE