Honeywell Shareholders Defeat Plan to Split Chairman, CEO Role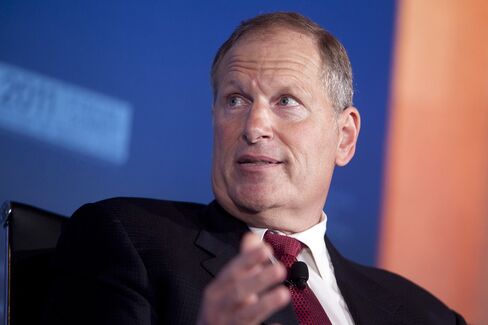 Honeywell International Inc. rallied shareholders to defeat a nonbinding proposal to split the duties of chairman and chief executive officer, both held by Dave Cote, after the recommendation gained 48 percent support last year.
The plan wasn't supported at the annual meeting Monday, according to Honeywell, which said the results of the balloting weren't immediately available.
In December Honeywell created a lead director role with increased authority that allowed calling meetings and changing board agendas in response to last year's vote. The company highlighted in a March 12 proxy filing a total return of 458 percent since Cote, 62, became CEO and chairman in 2002.
"The Board currently believes that combining the roles of CEO and chairman in Mr. Cote enables strong, decisive leadership and drives strong performance and long-term value creation for shareowners," the filing said.
Shareholders' support of an independent chairman last year signaled discontent with executive pay, said Louis Malizia, assistant director of the capital strategies department for the Teamsters union, which presented the proposal at the meeting at Honeywell's headquarters in Morris Township, New Jersey.
"With Honeywell, we think it's a board that has been out of touch when it comes to executive pay," Malizia said. "In our mind, that's the largest reason."
Last year, Cote's total compensation was $29.1 million compared with $26 million in 2013. The increase included $6.2 million from a change in pension value.
Before it's here, it's on the Bloomberg Terminal.
LEARN MORE