Greens in Final Push to Double U.K. Commons Seats in Bristol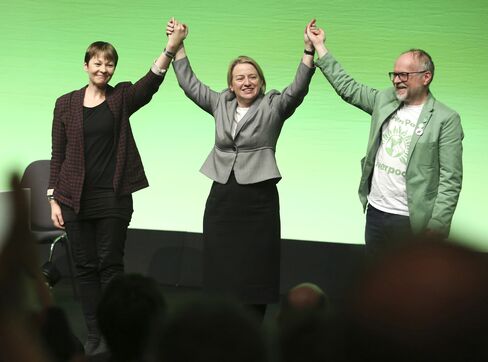 Green Party leaders headed to Bristol in western England Tuesday as they started a final push to win a second seat in the House of Commons.
"Greens can win in Bristol West" has been a party mantra since the start of this year. It's a bold assertion for a party that took 3.8 percent of the vote in the swing district in the 2010 general election.
"It gives people confidence to think that it's not a wasted vote," the Greens' local candidate, Darren Hall, 46, said in an interview in the district last week. "If people think we can win, then we can win, because people will vote for us rather than vote tactically."
Bristol West represents the Greens' best chance to double their presence in the House of Commons, adding Hall to Caroline Lucas, who won in Brighton in 2010 and is favored to retain her seat. Nationwide support for the party has fallen back to about 5 percent since hitting 10 percent in some polls earlier this year, limiting the Greens' chances of any breakthrough in a British electoral system weighted against smaller parties.
Jenny Jones, a member of the House of Lords, Britain's unelected second chamber, and Deputy Party Leader Amelia Womack used Bristol as the first stop on a cooking-oil-powered bus tour around England and Wales. Party leader Natalie Bennett was unable to attend because she is ill, the party said.
'Dropping Out'
Hall's assessment, two weeks before the May 7 vote, was that opposition Labour Party candidate Thangam Debbonaire was "slightly ahead," with the Liberal Democrat incumbent, Stephen Williams, "dropping out."
Two days later, a poll by former Conservative upper-house lawmaker Michael Ashcroft put Labour at 38 percent, the Greens at 25 percent and the Liberal Democrats at 20 percent in the district. The Greens' response in a press release was that they have "momentum," with a 21 percentage-point gain in support since 2010, compared with 10 points for Labour.
The diverse constituency stretches from affluent Clifton to the grittier inner-city areas of St. Paul's and Lawrence Hill, taking in Stokes Croft, an area famous for its street art, including the mural "Mild Mild West" by Banksy.
"All the Greens in the local area have been going to Bristol West to help out," said Dave Cutts, a lecturer in political science at the University of Bath. "It is a key target nationally for the party. They can win, but the strength of the Labour vote there is having an effect on them."
Bristol City
Since the last election, the party has won five of the 18 seats on Bristol City Council in the constituency, while Molly Scott Cato was elected for the Greens as one of six European Parliament lawmakers representing southwest England.
Odds from bookmaker Ladbrokes Plc on the Greens winning the seat lengthened to 9/2 -- meaning a successful 2 pound bet would bring a profit of 9 pounds -- from 7/2 in the wake of the Ashcroft poll. That's still a huge improvement from the 100/1 Ladbrokes offered in July last year.
"We didn't see it coming when we first priced the seat," said Matthew Shaddick, head of political odds at Ladbrokes. "We didn't realize how strong they were locally."
Ladbrokes wasn't alone. As Hall tells it, "both Labour and the Liberal Democrats had an original strategy to ignore us." Now, campaign literature for Williams "looks like a Green Party leaflet," he said.
"In Bristol West, if you want a green MP, vote for the green party of government," Deputy Prime Minister Nick Clegg, the Liberal Democrat leader, said in an interview on the campaign trail last week.
New Members
A nationwide Green Party survey of new members showed 47 percent had voted Liberal Democrat at the last election, an indication of disillusionment with the U.K.'s traditional third party.
"The Greens are the destabilizing factor," said Williams, defending his seat. "People assume they're taking votes from us, but there's more and more evidence they're taking bucket loads of votes off Labour."
At a local hustings featuring six candidates last Wednesday, Labour's Debbonaire sought to burnish her credentials on environmental issues, saying twice she wants to ensure Labour leader Ed Miliband is the person to represent the U.K. at United Nations climate talks in Paris in December.
"That's a complete shift in what she was talking about six weeks ago," says Hall.
'Not Realistic'
"Everyone's green around here, and it's a bit of a disappointment that Labour don't talk about climate change and so on," said Penny Clark, a 68-year-old artist who displays a Labour poster in her window in Bristol's Montpelier district. "Green Party policies are not terribly realistic. I would vote for them, but I don't want to take away from Labour."
After forgetting to introduce himself at the hustings, Hall ended up making an impression on voters, earning a similar amount of applause as Debbonaire and Williams.
"I was always going to go Labour, but the Greens have impressed," said Carole Byrne, 63, a retired social worker who voted Liberal Democrat in 2010 and is now deciding between Hall and Debbonaire.
Sitting next to Byrne, Jonathan Briggs, a retired doctor, said he thinks Williams is "a green Lib Dem" and is weighing up the defending candidate and Debbonaire, though he hasn't ruled Hall out.
Local Candidate
The Greens have benefited by having a candidate who attended high school in Bristol, before returning in 2001 to work in local government on issues surrounding drugs and crime. He then project-managed the team that helped win Bristol the title of European Green Capital for 2015, and he also organizes an annual sustainability festival in the city.
"Darren Hall's got a really good chance and the perception is that he's going to get in," said Alice Young, a 30-year-old charity worker who has a Green placard in her garden. "There's definitely a lot of green support in Bristol: It's in the nature of the city. It's a grass-roots, alternative and very environmentally conscious city."
For Cutts, the university lecturer, a Green win is only an outside possibility, though he acknowledges the big strides the party has taken in the area. "Them getting 30 percent this time or 28 percent is a massive achievement for a minor party in such a three-horse race," he said.
Before it's here, it's on the Bloomberg Terminal.
LEARN MORE