Swiss shoppers are making the most of the strong franc: they are hunting for bargains abroad.
That's what customs office data in Loerrach, on the German border to Switzerland, indicate. Export forms, which allow shoppers to reclaim value-added tax on goods they're bringing back into Switzerland, increased 27 percent in the first quarter from a year earlier.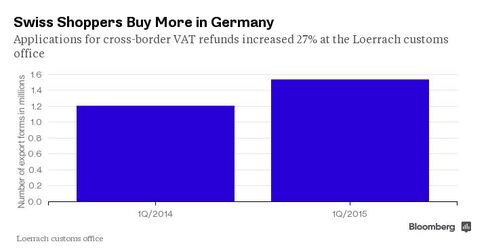 For years Swiss shoppers have been going to Germany, Italy, France and Austria to take advantage of prices that can be significantly lower than at home. Their purchasing power abroad was given a boost in mid January when the central bank got rid of its cap on the franc. In late March, the franc bought about 15 percent more in Germany than it did at the end of last year.
The tax refund "makes the attractive price difference even better," said Antje Bendel, spokeswoman for the Loerrach customs district.
Loerrach officials received 1.54 million export forms in the first three months of this year, compared with 1.21 million a year earlier. People who don't live in the European Union can submit these form to customs upon departure to get value-added tax on their purchases refunded.
Before it's here, it's on the Bloomberg Terminal.
LEARN MORE