Fanuc to Lift Dividend, Buy Back Shares After Loeb Pushes Change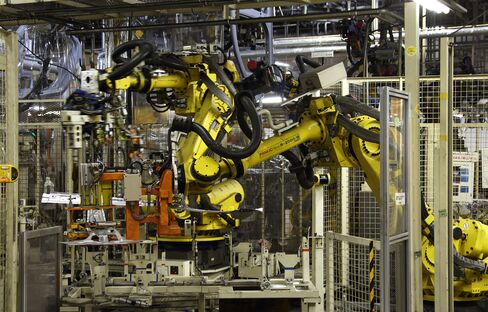 Fanuc Corp., a Japanese maker of industrial robots, said it would double its dividend payout ratio and buy back shares, following calls by billionaire investor Daniel Loeb to return more cash to shareholders.
The dividend payout ratio will be 60 percent starting with the year ended March 31, compared with 30 percent for the previous year, the company said today in a statement.
Loeb's Third Point LLC said in February it had acquired a stake in Fanuc and urged the company to buy back stock. Third Point said the company was similar to Apple Inc. in its approach to products, but its capital structure was "illogical."
"Clearly, Fanuc was conscious of the fact that they had to provide better returns to investors," Mitsushige Akino, an executive officer at Ichiyoshi Asset Management Co. in Tokyo, said by phone. "It's good for the market in general, you can expect to see a lot of other companies doing things like raising dividends or buying back shares."
The company said Monday it would buy back shares "in a flexible manner," according to the statement.
The robot maker has had a reputation for secrecy and declining to meet with shareholders. Loeb is among the investors that have sought more open policies.
In March, Fanuc had said it planned to start a shareholder relations department and begin meeting with stockholders. Loeb at the time praised the company's President Yoshiharu Inaba for the steps.
"Dr. Inaba's consistent adaptability and sharp focus have made Fanuc a world-class company," Loeb said in an e-mail at the time. "We are pleased he is applying these same principles to capital allocation and investor engagement."
Fanuc also said Monday that net income almost doubled to 207.6 billion yen in the 12 months ended March 31, the company reported Monday. That compares with the 195.5 billion yen average of 20 analyst estimates compiled by Bloomberg.
The company's shares gained 1.1 percent to close at 26,800 yen in Tokyo trading Monday, before the dividend announcement. The stock has jumped 34 percent this year, compared with a 15 percent increase for the benchmark Topix index.
Before it's here, it's on the Bloomberg Terminal.
LEARN MORE