Draghi QE Boosts Emerging Europe's Tolerance for Currency Gains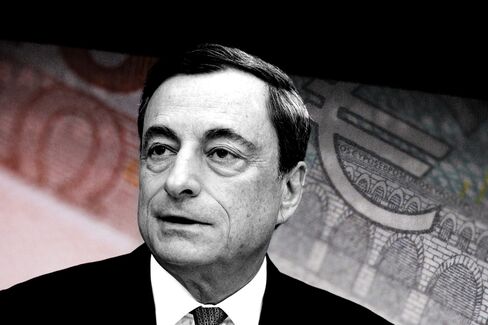 Policy makers across eastern Europe seem unbothered by the rallies in their currencies versus the euro.
Adopting a passive stance that has surprised some observers, they've for the most part opted against trying to reverse the gains of late.
A key to understanding why -- according to ING Groep NV and Citigroup Inc. -- lies in the fact that the euro is also tumbling against the dollar, posting a 10 percent selloff this year that's given a boost to euro-zone exports to the U.S. and other major markets. Because a large chunk of eastern European products are sold as parts to companies in euro-region countries that put them in finished products they export, these nations actually are getting a boost from the euro's weakness rather than being hurt by it, the economists say.
In essence, the key role in the export supply chain played by the European Union's biggest eastern economies -- Poland, Hungary, the Czech Republic and Romania -- makes them a bit like de facto eurozone members. When the euro weakens against the dollar and yen, as it's doing now as a result of the European Central Bank's monetary stimulus under President Mario Draghi, eastern European companies gain along with those in the euro zone.
"We're part of the supply chain and we're benefiting from the cheap-euro effect and much bigger competitiveness of the euro area," Piotr Kalisz, the chief economist at Citigroup's unit in Warsaw, said by phone last week.
Regional Appreciation
Poland's zloty has appreciated 7.1 percent against the euro this year, surging to an almost four-year high last week, while Hungary's forint gained 5 percent and set an almost 1 1/2-year high in April. Romania's leu advanced 1.3 percent and the Czech koruna 0.8 percent, approaching its central bank-mandated cap.
"Rate-setters in emerging Europe don't need to worry that much about their currencies gaining against the euro," Jakub Seidler, the chief economist at ING's Prague-based unit, said by phone on Monday. "The much weaker euro is doing some of the heavy lifting for them, helping export competitiveness both for the euro zone and its main trading partners."
Poland's central bank, which cut its main interest rate to a record 1.5 percent in March, this month reiterated that its easing program is over as economic growth will help reverse deflation. Romania's central bank says it may hold off on more stimulus for another year, and Czech rate setters have said they don't see a need to loosen conditions by shifting the cap on the koruna to a weaker level because consumer demand is picking up.
'Excessive' Gains
Finance Minister Mateusz Szczurek said on April 18 that while further "excessive" zloty gains could hurt the economy, the rally against the euro this year is partly neutralized by a 3.9 percent drop versus the dollar.
Relative to the dollar, the region accounts for four of the eight biggest forecasted losers among emerging-market currencies this year, surveys compiled by Bloomberg show.
While first-quarter gross domestic product figures haven't yet been published, signs are encouraging amid the appreciation. Polish industrial production jumped the most in more than three years in March and retail sales rose almost twice as much as analysts expected. Czech and Hungarian industrial output for February expanded and purchasing managers' indexes for March increased.
Trade Links
Not everyone is confident policy makers will refrain from lowering borrowing costs if the ECB's 1.1 trillion-euro ($1.2 trillion) bond-buying program keeps driving demand for higher-yielding currencies and thwarting emerging Europe's fight against deflation risks. Hungary cut interest rates last week and pledged more reductions to help meet its price-growth target.
"We've seen a bit of a rally in central and eastern Europe currencies already and central banks won't be happy with more appreciation," David Hauner, a strategist at Bank of America Corp. in London, said by e-mail on April 17.
For Goldman Sachs Group Inc., such risks are outweighed by the region's trade links with the euro area. Poland sends 54 percent of its exports to the single-currency zone, compared with about 60 percent for Hungary and 64 percent in the Czech Republic, data compiled by Bloomberg show.
The region is "heavily integrated into the euro-area export chains," Magdalena Polan, a London-based economist at Goldman Sachs, wrote in a research note last week. "Increased competitiveness of euro-area exporters benefits central and eastern European economies too."
Before it's here, it's on the Bloomberg Terminal.
LEARN MORE