ESPN Files Suit Against Verizon Over Custom TV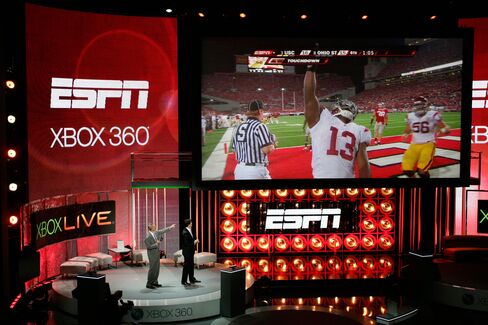 Walt Disney Co.'s ESPN sports network sued Verizon Communications Inc. in New York, escalating a battle over how much freedom the phone company has to repackage pay-TV networks for its FiOS customers.
ESPN, which has said Verizon is wrongly using its programming in a new service called Custom TV, is seeking an injunction and damages, according to a filing Monday in New York State Supreme Court in Manhattan.
The service has triggered a growing dispute between Verizon and sports programmers over new TV packages that give customers a choice of channels. The least-expensive Custom TV package from FiOS excludes sports networks such as ESPN, which is typically part of basic pay TV. The suit by ESPN raises the possibility Verizon could face more legal action.
Using ESPN in new packages "must be done in compliance with our agreements," ESPN said in a statement. "We simply ask that Verizon abide by the terms of our contracts."
Verizon's Custom TV offer started eight days ago. For $55, viewer get a base package of channels, including local broadcasts and two optional groups. Viewers who want more can add other categories for $10 apiece. ESPN and ESPN2 are part of a sports bundle.
In response to the service, two other broadcasters, Fox Sports and NBCUniversal, objected to the channel options, saying they don't comply with contract terms.
NBC and Fox declined to comment Monday.
Verizon's Take
"Consumers have spoken loud and clear that they want choice, and the industry should be focused on giving consumers what they want," Deidre Hart, a Verizon spokeswoman, said in an e-mail. "We are well within our rights under our agreements to offer our customers these choices."
Last week, Disney's WABC-TV and ESPN Radio in New York refused to run ads for Custom TV, Verizon said.
Separately, Verizon on Monday added the CBS Sports Network to its sports package, one of the optional groups that viewers can choose when they sign up for Custom TV or add later at additional cost. The network carries live programs and sports including college football and basketball.
"We are pleased to make CBS Sports Network a part of the new FiOS Custom TV lineup," Ray Hopkins, CBS's president of television networks distribution, said in a statement. "We are confident that our expanding lineup of premier live programming will be a favorite among Verizon's sports fans and that this new option will help continue to grow our distribution."
The case is ESPN Inc. v. Verizon Services Corp., 651391/2015, New York State Supreme Court (New York County).
Before it's here, it's on the Bloomberg Terminal.
LEARN MORE