Container Store Plunges After Blaming Weather for Slump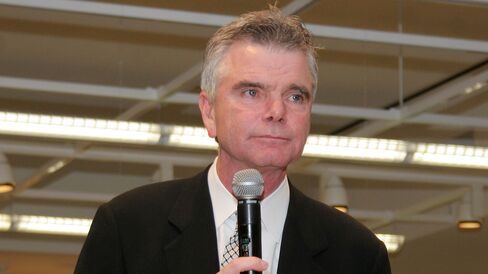 Container Store Group Inc. Chief Executive Officer Kip Tindell blames his company's disaster of a quarter on four missing days.
The retail chain usually racks up orders in the final week of its annual Elfa sale, which offers discounts on its popular shelving system. This year, winter storms hit -- especially in the Northeastern U.S. -- keeping customers away from stores during four days of February. A fifth of the Elfa sale's revenue usually comes during that stretch, Tindell said.
"That's a pretty dramatic thing," he said Monday on a conference call. "That was particularly bad in our higher-volume markets."
The disruption contributed to slow sales growth last quarter, and earnings fell well short of analysts' estimates. The question for investors is how much of the performance was due to weather and how much was execution. Container Store's forecast for 2015 also missed projections, suggesting that its problems aren't just meteorological.
The shares fell as much as 24 percent to $16.38 in New York, the biggest intraday decline since Oct. 7. The tumble brought another round of turmoil to a business that has struggled to adjust to life as a public company.
Tindell, who co-founded the Coppell, Texas-based company in 1978, said in October that he might stop providing guidance to investors because they put too much emphasis on the short term. Container Store, which had its initial public offering in October 2013, cut its forecast that week, sending its stock down 25 percent in one day.
'Bit Illogical'
"It's been intense, it's been stressful, it's been a little bit illogical," Tindell said at the time.
In its most recent quarter, which ended Feb. 28, earnings amounted to 24 cents a share, excluding some items. Analysts estimated 31 cents, according to data compiled by Bloomberg. Sales rose just 3.4 percent to $224.3 million, also missing projections.
Container Store, which sells storage and organization products at about 70 U.S. stores, forecast 2015 earnings of 30 cents to 38 cents a share -- below analysts' estimates. Sales will be $800 million to $815 million, the company said.
The retailer's shares had gained 13 percent this year through Monday's close. The company has been predicting a growth surge from its TCS Closets program, a higher-end service that has an average ticket price of $10,000. It's only available in a few locations so far, and the company is debating how to roll it out more widely, Tindell said. Again, he cited the challenges of being a publicly traded company.
"Being public now, should you roll it out faster or slower?" Tindell said. "It's a very complicated initiative."
Before it's here, it's on the Bloomberg Terminal.
LEARN MORE