Alan Howard Says 'Crazy' to Hold Bonds With Negative Yields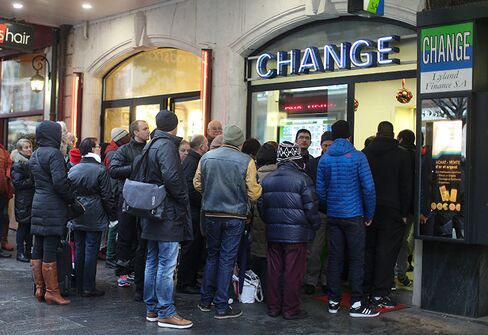 Billionaire hedge fund manager Alan Howard said it's "just crazy" to hold bonds with negative yields.
"Many investors can't afford to or want to hold bonds with negative rates," Howard, 51, who runs Brevan Howard Asset Management, said Monday at the Milken Institute Global Conference in Beverly Hills, California. "The idea that you pay governments to hold their debt, it's just crazy."
Howard, a former bond trader whose firm oversees $27 billion, joins investors including Mark Kiesel, chief investment officer for global credit at Pacific Investment Management Co., and his former boss, Bill Gross, in warning of overvaluations in European sovereign debt.
Since September last year, the pool of European bonds that essentially charge investors to own them has almost tripled to 2.8 trillion euros ($3 trillion) from 1 trillion euros, according to Bank of America Corp. data. The increase has been driven by central banks buying bonds to stimulate economies.
"The bubble is really in some of these yields, these negative yields," Pimco's Kiesel said in a Bloomberg Television interview Friday. "I don't think they're sustainable."
Gross, who now works at Janus Capital Group Inc., said last week that the 10-year German bund is the "short of a lifetime."
Howard rarely speaks at public events. He made the comments in a panel discussion that covered bank regulations and opportunities in credit markets.
Inherently Unstable
Howard said he was optimistic on Japan, but U.S. markets are inherently unstable, in large part because of regulation that has hampered banks from helping investors price risk.
"Dodd-Frank has meant market makers don't know how to price risk," Howard said, referring to the 2010 financial rule. "They can't model the way they used to. The market is inherently unstable, and that's partly due to regulation."
Howard started his hedge fund in 2002 with four other traders of the Credit Suisse Group AG proprietary trading desk he worked on. Brevan, based in St. Helier on the island of Jersey, posted its first annual loss last year.
Howard spoke on the panel with Apollo Global Management LLC co-founder Josh Harris, Canyon Partners co-founder Josh Friedman and GAM Holding AG's Chief Executive Officer Alex Friedman.
Harris said private investment firms are ready to step in with tens of billions of dollars as banks provide less liquidity to markets.
"Banks have been driven out of making markets," Harris said. "Who have replaced them? The people on this stage."
Harris also said the decline in oil prices is a "temporary blip" and that "we're in a world where everything is overvalued."
Before it's here, it's on the Bloomberg Terminal.
LEARN MORE