Bollore Eyes Berlusconi Deal Ahead of Potential Italy Foray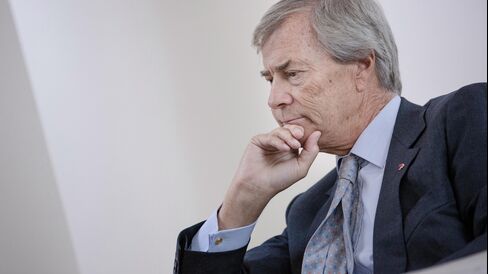 As Vivendi SA Chairman Vincent Bollore scouts for potential deals to transform the French media group, one of his more flamboyant fellow billionaires may hold the key to his ambitions.
Silvio Berlusconi -- the former Italian prime minister, cruise-ship crooner and notorious bon vivant who controls broadcaster Mediaset SpA -- has emerged as an important figure as Bollore looks to deploy Vivendi's 15 billion-euro ($16.3 billion) cash pile to build its presence in southern Europe.
A large investment in Mediaset, possibly also involving Telecom Italia SpA, in which Vivendi is set to become a major shareholder, is one option for the French company, people familiar with the matter said, asking not to be identified discussing a private matter. Another possibility: a significant investment by Vivendi in Mediaset Premium, the company's pay-TV unit, they said.
An acquisition of part or all of Mediaset by Vivendi could give Bollore a foothold in a company that dominates private broadcasting in Italy, which the 63-year-old Frenchman has described as his second home. Getting a major deal done would require Berlusconi to agree to giving up or sharing control of the broadcaster he built through more than 30 years of wheeling and dealing with competitors and Italy's government.
"Vivendi is going to look south for the next stage of its development," Jerome Bodin, an analyst at Natixis SA in Paris, said in a note to clients last week. "Mediaset is one of the most credible targets."
A representative for Paris-based Vivendi declined to comment. Mediaset doesn't comment on other companies' strategy, a Milan-based spokesman said.
Three-Way Deal?
As Bollore weighs his next moves, one strategy could involve Vivendi buying a significant stake in Mediaset -- which has a market value of 5.5 billion euros -- using a mixture of cash and its shares in Telecom Italia, said one of the people.
The evaluations are preliminary and no decisions on any deals have been made. Mediaset hasn't been formally approached and Vivendi continues to examine a wide range of acquisition targets in Europe and beyond, the people said.
Vivendi shares slipped 0.5 percent to 23.01 euros at 9:05 a.m. in Paris. Mediaset traded 1.6 percent higher at 4.76 euros in Milan. They rose about 8 percent on Monday after French weekly La Lettre De L'Expansion reported it was among acquisition targets being evaluated by Vivendi.
Pay-TV Partner
While Berlusconi is reluctant to part with control of his company, he's open to partnering on the pay-TV business, the people said. The 78-year-old may also be open to eventually relaxing his control of the parent company as he looks to the long-term future of his business empire, they said.
Vivendi will receive an 8.3 percent holding in Telecom Italia when it completes the sale of GVT, its Brazilian broadband unit, to Telefonica SA. Bollore is also considering buying more Telecom Italia shares, both to bolster Vivendi's exposure to what he views as an undervalued company and to provide further ammunition for a Mediaset deal, one of the people said.
Guessing at Bollore's intentions for Vivendi has become a favorite parlor game in French business circles since he took over as chairman and amassed a stake of more than 14 percent. With a net worth of $6 billion according to the Bloomberg Billionaires Index, he is France's ninth-richest man, and also controls advertising group Havas SA.
Unwinding Telecoms
Bollore has largely dismantled the legacy of former chief executive officer Jean-Bernard Levy, selling telecommunications assets in France, North Africa and Brazil as well as video-game maker Activision Blizzard Inc. Those sales will give Bollore ample resources to accomplish his stated goal of refocusing the company on media and content.
After the asset disposals, Vivendi's biggest remaining unit is Canal Plus, France's leading pay-TV operator. Recently Vivendi agreed to buy online video provider DailyMotion from Orange SA. The company's strategic committee is scheduled to meet May 12 to discuss potential acquisitions with a focus on deals that will complement Canal Plus and Universal Music Group, the Vivendi unit that is the world's biggest record label.
Partnering with Berlusconi would bring Vivendi into an alliance with one of Europe's most controversial business figures. The ex-politician recently completed a period of community service for a tax-fraud conviction, which also prompted his expulsion from the Italian senate.
Before it's here, it's on the Bloomberg Terminal.
LEARN MORE