Air Berlin Mulls Long-Haul Expansion After Turnaround Plan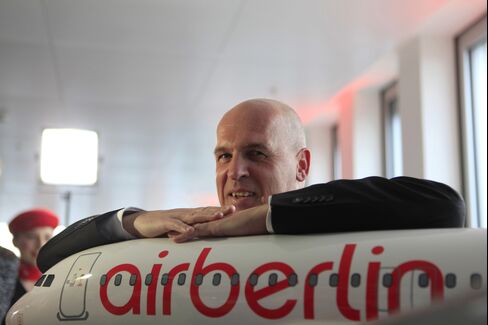 Air Berlin Plc's new chief is considering expanding long-haul services once a turnaround program including a more automated ticketing system and simpler pricing shows results.
"We have to do the most important things first: stabilize the company and stabilize the financials," Chief Executive Officer Stefan Pichler said in an interview in Wiesbaden.
Germany's second-largest carrier may then re-introduce some non-stop flights to Asia in addition to routing passengers via the Abu Dhabi hub of Etihad Airways PJSC, its biggest shareholder, while North America and Caribbean routes still provide the biggest potential growth.
"Some of the traffic flows between Germany and some Asian markets are huge," said Pichler, a veteran turnaround leader who was appointed in February. "Once we stabilize the company, we'll assess these markets and hopefully grow there."
Named the airline's fourth CEO in as many years, Pichler plans to defend it against low-cost carriers expanding in Germany and try to lure more corporate clients from Deutsche Lufthansa AG, which operates a fleet four times Air Berlin's size. A new electronic system for bookings, coupled with tight capacity management will help restore yields, a measure of average ticket price, after years of decline, he said.
Earnings Target
After a "disastrous" couple of years, Air Berlin made progress in the first quarter with stabilization in yield and loads, said Pichler, who previously headed carriers including Fiji Airways and Jazeera Airways, and held senior roles at Lufthansa and Virgin Australia.
"Now we have to enhance performance, reach our targets in the second and third quarter and then we should be back to black in terms of earnings before interest and taxes next year," he said.
Financial success also depends on whether the German government allows Air Berlin to extend code-sharing rights with Etihad on 34 flights beyond a grace period ending in October. The German airline needs revenue from that arrangement "in order to be safe," said Pichler, who is "quite hopeful" of a successful resolution.
Pichler said a review of group companies may also result in more outsourcing, and maintenance activities may be bundled for scale with Alitalia SpA and Etihad.
Air Berlin canceled an order last year for 18 Boeing Co. single-aisle 737s and 15 Boeing 787 Dreamliners worth almost $5 billion at list prices. That leaves the Air Berlin brand with Airbus Group NV wide-body A330-200s for its long-haul routes.
Etihad, which owns 29 percent of Air Berlin, may bundle plane orders with its partner airlines to cut costs, CEO James Hogan has said.
Before it's here, it's on the Bloomberg Terminal.
LEARN MORE