Yen Shorts Vanishing in Record Stretch as BOJ Seen Standing Pat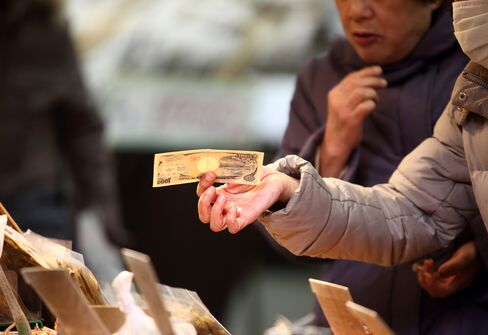 Speculators are losing interest in betting that the yen will fall further as the Bank of Japan shows no sign of adding stimulus to the economy when it meets this week.
Net yen shorts, or bearish bets for the Japanese currency, decreased to 14,448 in the week to April 21, the least since October 2012, according to Commodity Futures Trading Commission data before the BOJ sets monetary policy on Thursday. Speculative positions are still heading for a five-month run in favor of the yen in the longest such stretch since 1992. The yen declined Monday after Fitch Ratings Ltd. downgraded Japan by one level to A from A+.
"Most people are reasonably confident in their positioning," said Stuart Bennett, head of Group-of-10 currency strategy at Banco Santander SA in London. "Even if the BOJ did something they think it might move dollar-yen a bit but not a massive amount."
The yen weakened 0.2 percent to 119.25 per dollar at 6:17 a.m. New York time after depreciating as much as 0.4 percent. It has gained 4.9 percent against major peers this year, making it the best performer after the Swiss franc of 10 developed-nation currencies tracked by Bloomberg Correlation-Weighed Indexes.
While the dollar may find support below 119 yen, it also faces more selling pressure given the waning appetite by speculators to short the yen, Toshiya Yamauchi, a senior analyst in Tokyo at Ueda Harlow Ltd., a margin-trading-services provider, wrote in a note to clients Monday.
BOJ Outlook
BOJ stimulus may be back on the table later in the year, however. Japan's currency is set to resume its descent in the coming months as the BOJ will probably add to stimulus as early as July, said Ray Attrill, global co-head of currency strategy at National Australia Bank Ltd. in Sydney. Twenty-two of 34 economists in a Bloomberg survey conducted March 31 to April 3 forecast the BOJ will expand easing by the end of October. Only three estimate the central bank will make a move on April 30.
"We do expect the Fed to start lifting rates and the BOJ will ease further in some shape or form," Attrill said. "Dollar-yen can get to 125 by the end of this year."
Last October, BOJ Governor Haruhiko Kuroda caught the markets off guard by expanding stimulus, sending the yen tumbling after investors cut bearish yen bets by the most in six years in the month running up to the move. There's a risk that scenario could happen again, according to Steven Saywell, London-based global head of foreign-exchange strategy at BNP Paribas SA.
"Our baseline view is they won't do anything and very little is priced in, but they've surprised the market before," Saywell said in an interview on Bloomberg Television's "Countdown" with Manus Cranny, Mark Barton and Caroline Hyde. "There is an outside chance that we do get a move in the yen, so from that perspective we at BNP Paribas recommend positioning for upside in dollar-yen ahead of that either through the cash market or via options."
Before it's here, it's on the Bloomberg Terminal.
LEARN MORE