U.K. Party Leaders Quizzed on Post-Election Negotiating Position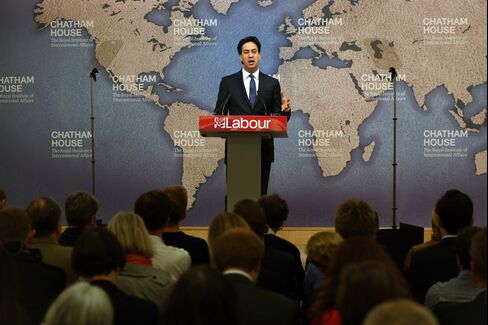 British political leaders faced questioning on Sunday about the alliances they might form after next week's general election, which is expected to deliver an inconclusive outcome with no party able to immediately form a government.
A potential Labour government's legislation is "not going to be written" by the Scottish National Party, Labour's leader Ed Miliband said in a BBC interview. "If there's a Labour government, it'll be a Labour budget, a Labour Queen's Speech," said Miliband, who promised "no coalitions, no tie-ins" with the SNP.
The prospect of a governing alliance between Labour and the SNP in the final weeks of the election campaign has become central to the Conservatives' pitch to voters. A Labour-SNP alliance would trigger a constitutional crisis, Conservative Home Secretary Theresa May said in an interview with the Mail on Sunday newspaper.
Neck-and-neck national opinion polls suggest neither prime minister David Cameron nor Ed Miliband will win the majority of seats in the House of Commons required to govern alone, necessitating arrangements with smaller parties.
For the 11 days remaining before the May 7 vote, the Tories will revert to focusing their message on the economy "to the exclusion of everything else," Cameron said in a Sky News interview Sunday. For his part Miliband pledged to cap private rents for three years in a bid to win votes from 11 million people who rent their homes.
Gordon Brown
National polls imply the SNP, which had six MPs in the last parliament, could win as many as 50 of Scotland's 57 seats. That makes it more probable that Cameron remains in 10 Downing Street, the U.K. premier's central London residence, his predecessor Gordon Brown said on Saturday.
The loss of most of Labour's 40 Scottish seats would also leave the SNP, which led the campaign for Scottish independence in September's referendum, with "enormous influence" in the U.K. parliament, the party's leader Nicola Sturgeon said in an interview with The Times newspaper published Saturday.
"David Cameron and Ed Miliband aren't going to win the election in their own right," Nick Clegg, deputy prime minister and leader of the Liberal Democrats, said in a separate Sky News interview.
"I shudder at the thought of Ed Miliband in Alex Salmond's pocket or David Cameron being held hostage by the right wing of his own party," Clegg said. With a single-party government unlikely, the Liberal Democrats' pitch is that they would "add a heart to the Conservatives and a brain to Labour," whichever is able to form a government.
Messy Result
Clegg, whose Liberal Democrats have been the junior coalition partner in Cameron's Tory-led government since 2010, voiced doubts in a Bloomberg interview about the feasibility of a second Tory-Lib Dem coalition with a different Conservative party leader at its helm.
Clegg also said this week that he wouldn't consider a coalition with Labour if it agreed to a deal with SNP lawmakers.
Miliband suggested that Labour would shun any partnership with the SNP, in the BBC interview broadcast on Sunday. "Parties will decide how they vote on the proposals we put forward," he said.
Negotiations between the parties could take longer than the five-day process that followed the 2010 election, which also delivered a "hung Parliament," because the separatist SNP will probably oust the Liberal Democrats as the third-largest parliamentary party, according to Peter Kellner, president of the YouGov polling organization.
"Last time there was a dominant third party, the Lib Dems, who both Labour and the Tories were happy to work with -- this time it'll be the SNP, with whom they aren't," Kellner said in an interview Friday. He expects a "messy result that makes coalition-formation exceedingly difficult."
Before it's here, it's on the Bloomberg Terminal.
LEARN MORE