Nazarbayev Wins 'Unnoticeable' Vote to Extend Kazakh Rule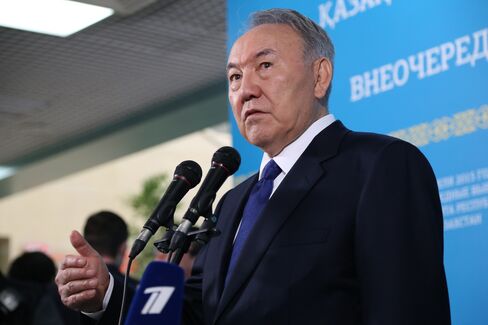 Kazakh President Nursultan Nazarbayev, who's ruled the former Soviet Union's second-biggest energy producer for more than a quarter century, won a fifth term by a landslide in an election criticized by international observers.
The incumbent got 97.7 percent of Sunday's vote, with turnout at 95.2 percent, the Central Election Commission said on its website Monday, citing preliminary results. One of the two challengers was a senior member of his Nur Otan party and the other praised the president's achievements during a campaign dubbed "practically unnoticeable" by observers from the Organization for Security and Cooperation in Europe.
"The record turnout showed the unity of Kazakhs, their wish to live in a stable state and their support for programs I proposed," Nazarbayev said Sunday while celebrating exit poll results in the Library of the First President in the capital, Astana.
The tally marked another dominant showing for Nazarbayev, who called a snap election in February as the nation came under pressure to devalue its currency after a crash in oil prices and a 46 percent plunge of the ruble in Russia. Nazarbayev won the previous election in 2011 with 95.5 percent. In 2010, parliament voted unanimously to declare Nazarbayev "leader of the nation" for life and granted him powers to manage the country after his resignation.
Little Choice
Kazakh "voters were not offered a genuine choice between political alternatives," the OSCE said in a statement on its website. "The incumbent and his political party dominate politics and there is lack of credible opposition in the country, with several prominent critics of the government either imprisoned or living in exile."
Requirements for candidates, including a language test, had "a negative impact upon the inclusiveness" of the registration process, it said.
Soon after ballots were cast, Nazarbayev faced questions about the tenge, which was devalued by 19 percent in February last year. The president told reporters Monday that there won't be another "sharp" devaluation after the vote and promised to warn Kazakhs if such an announcement were imminent. A move to a free-floating exchange rate will take no less than five years, Interfax cited Nazarbayev as saying.
The tenge traded little changed at 185.89 to the dollar, according to data compiled by Bloomberg. The yield on Kazakhstan's government bonds due 2024 fell 10 basis points to 4.16 percent.
Erroneous Perception
While a stronger currency put Kazakhstan at a disadvantage in trade with Russia amid weaker economic growth and lower oil prices, "we see at least as many reasons why the perception of an imminent, and large, tenge devaluation may be erroneous," Ivan Tchakarov, a Moscow-based economist at Citigroup Inc., said in a note. "There are no compelling reasons to expect significant changes in the tenge exchange rate."
Kazakhstan may devalue the currency to 260 against the dollar by the end of May or mid-June, Renaissance Capital said in an April 22 note. Economic growth may slow to 0.7 percent this year, with oil prices averaging $60 per barrel, from 4 percent in 2014, it said.
Russia, China
The Kazakh leader has balanced between two powerful neighbors, Russia and China, while keeping tensions in check in a region that's a complex patchwork of ethnic groups and that faces a rising threat of Islamic extremism.
Kazakhstan formed the Eurasian Economic Union with Russia, Belarus and Armenia in January, a free-trade bloc of former Soviet states, a month after it signed $14 billion of agreements during a visit by Chinese Premier Li Keqiang as part of a Silk Road initiative to finance infrastructure to link markets in Asia.
Russian President Vladimir Putin congratulated the Kazakh leader on his victory. Nazarbayev's daughter, Dariga, the ruling party's parliamentary leader, said the elections were so calm they were almost silent, Novosti-Kazakhstan reported.
Nazarbayev has overseen the diversification of oil sales toward Asia and the country's development into the world's largest uranium producer. After Kazakhstan's banking industry collapsed in 2008-2009, the economy has grown more dependent on its resource exports.
Succession Dilemma
Besides managing devaluation pressure on the tenge, another critical issue facing the veteran leader is grooming a successor able to maintain stability when Nazarbayev, who'll be 75 in July, eventually goes. He was the head of Kazakhstan's Communist Party and became president when the nation gained independence after the Soviet collapse in 1991.
"There definitely will be a transition of power," he said in an interview in February last year. "The time will come when we'll talk about it."
Nazarbayev "has never faced such a daunting list of challenges" as the economy slows, Kate Mallinson, a partner at London-based political risk advisory firm GPW & Co., said in e-mailed comments. "The government needs to solve emerging trade disputes with Russia and cement Kazakhstan's role in the Eurasian Economic Union, attract urgently needed foreign direct investment and maintain social stability whilst cutting state expenditure."
Before it's here, it's on the Bloomberg Terminal.
LEARN MORE