Kazakhs Choose President in Nazarbayev's 'Unnoticeable' Vote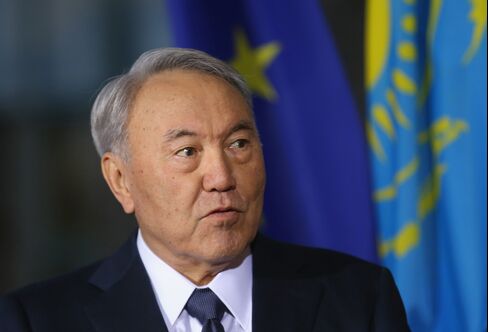 Kazakhstan holds early presidential elections on Sunday that will probably extend Nursultan Nazarbayev's 26-year rule after a campaign that international observers described as "practically unnoticeable."
The snap poll pits Nazarbayev against two little-known opponents as he seeks a fifth term that would extend his rule for five more years. Voting started at 7 a.m. and ends at 8 p.m. local time. By 4 p.m., 82 percent of the electorate had voted, the Astana-based Central Election Commission said on its website. Exit polls are due after the balloting concludes and preliminary results may be announced Sunday night, with a final tally due within 10 days.
The immediate post-election challenge will be to manage pressure on the currency as the economy slows amid the slump in oil prices and companies struggle to compete after the ruble fell 46 percent in 2014. Nazarbayev, 75 in July, may also use his next term to ensure a smooth succession while seeking to maintain stability in the country of 18 million wedged between Russia and China, according to Kate Mallinson, a partner at London-based political risk advisory firm GPW & Co.
Nazarbayev is "keen to entrench his authority" with a new mandate "to weather any economic turbulence that lies ahead over the short term," Mallinson said by e-mail. "Nazarbayev also intends to remain in power to manage the political and economic fallout from the crisis in Ukraine, including grappling with more challenging bilateral relations."
Candidates Included
Nazarbayev became Kazakhstan's Communist leader in 1989 and president in 1991 when the country gained its independence from the collapse of the Soviet Union. He won 96 percent of votes at the last election in 2011.
Under his rule, the former Soviet Union's second-largest oil producer has attracted $150 billion of foreign investment, according to the presidential website, including from Exxon Mobil Corp, Royal Dutch Shell, Total SA and Eni SpA.
Nazarbayev faces Communist Party candidate Turgun Syzdykov, who praised the president's achievements at a rally "and didn't ask participants in the meeting to support his own candidacy," according to election observers from the Organization for Security and Cooperation in Europe, and Abelgazy Kusainov, who heads the trade-union federation and is on the political council of Nazarbayev's Nur Otan party.
After voting in Astana, the capital city, Nazarbayev said he plans reforms including the redistribution of some presidential powers to the government and parliament as well as strengthening the independence of the judiciary.
Russia, China
"I personally voted for Kazakhstan's future, for continuing the work we started so its results will be seen by this and future generations," Nazarbayev said, according to a statement on his website.
The Kazakh leader has balanced between the country's two powerful neighbors and kept tensions in check in a region that's a complex patchwork of ethnic groups and that faces a rising threat of Islamic extremism. The government will "rigidly suppress all forms of national radicalism from any side," he told the Assembly of People of Kazakhstan, a consultative body uniting ethnic groups, in a speech on April 23.
Kazakhstan formed the Eurasian Economic Union with Russia, Belarus and Armenia in January, a free-trade bloc of former Soviet states set up to rival the European Union. About a quarter of Kazakhstan's 17.4 million people is ethnically Russian, mostly living near the border with Russia.
Chinese Premier Li Keqiang signed cooperation agreements worth $14 billion during a visit in December as part of a Silk Road initiative to finance infrastructure to link markets in Asia. Trade with China was $17.2 billion in 2014, the statistics office reported, the second-highest after Russia.
Before it's here, it's on the Bloomberg Terminal.
LEARN MORE