Former Polish Foreign Minister Bartoszewski Dies at 93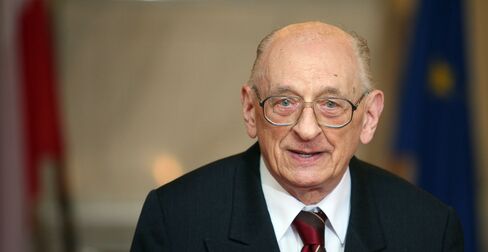 Wladyslaw Bartoszewski, a former Auschwitz prisoner and member of the Polish underground during World War II who twice served as Poland's foreign minister, died at 93 in Warsaw Friday.
His death was confirmed by Prime Minister Ewa Kopacz, while Polish leaders including President Bronislaw Komorowski said they were deeply saddened by the death of a national hero. Flags above parliament and the presidential palace have been lowered to half-mast.
"It's symbolic that he was active to his very last day serving Poland," Komorowski said in a statement posted on the Presidential Office's website. "The void left by his departure will be very hard to fill."
Bartoszewski, a historian and diplomat focused on Polish-German and Polish-Jewish relations, continued to advise the government on foreign policy, Kopacz told reporters Saturday in Warsaw. The prime minister said she will read a speech Bartoszewski had planned to deliver at Monday's cabinet consultations in Warsaw with German Chancellor Angela Merkel.
European Council President and former Prime Minister Donald Tusk said it "was a great honor" to work with Bartoszewski, who served as deputy minister in charge of international dialog in his government. "Your friendship was a great gift," Tusk wrote on his Twitter account.
Born in Warsaw as the son of a bank clerk, Bartoszewski was caught in a street roundup by Nazi occupiers and sent to Auschwitz in 1940. He was released from the camp in 1941, returned to Warsaw and joined the underground, where he served in the Zegota resistance unit dedicated to helping the Jews.
After World War II, Bartoszewski was a supporter of the anti-communist opposition and spent seven years in prison during the Stalinist period. Following the fall of communism in 1989, he devoted his political life to reconciliation between Poland and Germany.
Before it's here, it's on the Bloomberg Terminal.
LEARN MORE