Cameron Sets Tax-Free Minimum Wage as Post-Election Priority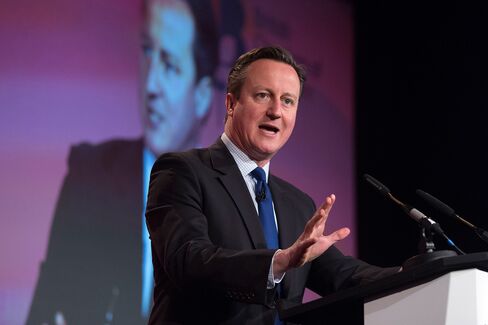 U.K. Prime Minister David Cameron will prioritize a new law to ensure that anyone working a 30-hour week on the minimum wage won't have to pay income tax if his Conservative Party wins the May 7 general election.
Laying out a program for his first 100 days in office, Cameron plans to enshrine into law his pledge to hold a referendum on whether Britain should remain in the European Union, create 3 million apprenticeships, and cut red tape for small businesses, the Conservatives said Sunday in an e-mailed statement.
With polls indicating no clear winner of the election, the prime minister is trying to counter accusations by Ed Miliband's opposition Labour Party that the Tories serve only the rich. Cameron is also pushing a message that only his party can be trusted to run the economy, saying Labour would rack up more debt and raise taxes and spending.
"Our country is on the right track with 2 million more people in work," said Cameron, prime minister since 2010. "For the next five years, we will turn our long-term economic plan into a plan for you and your family, cutting your tax bill, helping with childcare, creating more jobs, offering more young people the chance to own their own home, and guaranteeing security in retirement."
Immigration Controls
Labour says the biggest risk to the economy is the prospect of Britain leaving the EU, and has ruled out holding a referendum. A new Conservative government would enshrine in law Cameron's commitment to negotiate new membership terms for the U.K., including controls on immigration and welfare, before holding a referendum by the end of 2017, the Tories said.
Other pledges by Cameron for his first legislative program of the new Parliament include a law to force "coasting" schools, or those not striving to improve results, to accept new leadership, doubling free childcare for 3- and 4-year-olds to 30 hours a week, extending the right of people in social housing to buy their homes and lowering the cap on welfare benefits to 23,000 pounds ($35,000).
Polling has shown the two main parties jostling for the lead, with neither looking set to secure the 326 seats needed for an outright majority. That will leave them dependent on smaller parties to form a coalition government. With polling also indicating that the Scottish National Party could be the third biggest in the new Parliament, Cameron has sought to persuade voters that his party would manage the economy better than a possible tie-up between Labour and the SNP.
The alternative to the Tories is that May 8 "marks the start of Nicola Sturgeon's SNP demanding more debt, more taxes and more borrowing from a weak Ed Miliband government," Cameron said."This will put the economy at risk and working people will pay a heavy price through higher mortgage rates, lost jobs, and lower incomes."
Before it's here, it's on the Bloomberg Terminal.
LEARN MORE