Uralkali Plans $1.5 Billion Buyback Instead of Dividends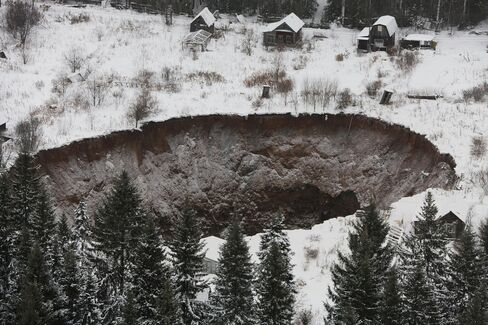 PAO Uralkali plans to buy back $1.5 billion of shares even as it skips dividend payments to save funds for investment as one of its biggest mines is flooding.
A unit of the company is offering $3.20 per share or $16 per global depositary receipt to purchase a stake of as much as 15.97 percent, Uralkali said Friday in a statement. The deal, which needs antitrust approval, will probably be completed on or about June 16, according to a memorandum for the buyback.
Uralkali is monitoring the Solikamsk-2 mine, about 1,600 kilometers (1,000 miles) east of Moscow, after salty water started pouring in on Nov. 18. There's a high risk the mine will be completely flooded, dissolving the potash and forcing it to abandon a site that accounts for about 18 percent of capacity. The company said April 7 that it may review its 2015 output target if the situation worsens as snow melts.
"The buyback comes as a surprise after management was saying that investments take priority over dividends," Konstantin Yuminov, an analyst at ZAO Raiffesenbank in Moscow said by phone. "Such incoherence is worrying, especially because Uralkali may not manage both buyback and investments, which means that debt will be increasing more than was expected."
Uralkali shares fell as much as 3.6 percent and traded down 3 percent at 153.25 rubles at 1:49 p.m. in Moscow.
Servicing Loans
Uralkali's biggest owners are servicing loans they took in 2013 to buy the company and may be looking for cash, Yuminov said. Billionaire Dmitry Mazepin's OAO Uralchem, one of the two biggest owners, may participate in the buyback depending on the market situation, spokesman Alan Basiev said by phone. Mikhail Prokhorov's Onexim Group, the other major shareholder, declined to comment.
The board, at a meeting Thursday, also recommended waiving a final dividend on 2014 profit. Onexim and Uralchem in December voted against the payment of an interim dividend after the flooding started at Solikamsk-2.
"Under our current dividend policy, we are not able to pay dividends for 2014," Chief Executive Officer Dmitry Osipov said in the statement. The company had a cash balance of $2.5 billion at the end of 2014 and is ready to share those funds with investors, he said.
Rising Debt
To compensate for the lost output at Solikamsk-2 and bring new capacity online faster, the board approved $4.5 billion of investment in March. Management at the time started talks with banks to change debt covenants as liabilities are set to rise. The potash miner agreed on a $530 million loan with international lenders this week.
The buyback may increase Uralkali's 2015 net debt to Ebitda ratio to 2.5 from the current estimate of 1.8, Yulia Chekunaeva, a commodities analyst at Goldman Sachs Group Inc. in London, said in note.
Bids will be accepted from Friday until May 22 at 1 p.m. in Moscow. The buyback will be held through a wholly owned Cyprus unit Enterpro Services Ltd. on a pro-rata basis, Uralkali said. An exception will be made for stakes no larger that 500 shares, or 100 GDRs, which will be purchased in full, it said. Shares pledged as collateral can't be tendered.
The buyback may pose a risk to its listing on the London Stock Exchange if the free-float falls below 25 percent or if the board decides that the listing isn't in the interests of the company, according to the memorandum. Uralkali applied to the Federal Anti-Monopoly Service on Friday for permission to hold the buyback.
The repurchased shares will be canceled, according to the statement. In December, the company postponed plans to cancel a 12.5 percent stake it already holds in treasury, after pledging to do so last year.
Before it's here, it's on the Bloomberg Terminal.
LEARN MORE