South Africa Treasury Ex-Officials Soothe Investors in New Roles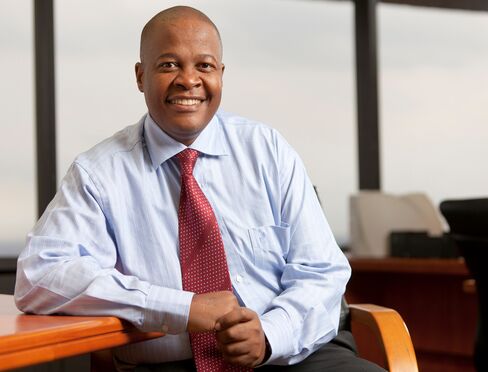 South Africa is increasingly turning to National Treasury officials from the country's first decade of democratic rule to help steer key economic institutions and boost investor confidence.
Brian Molefe, the newly appointed acting chief executive officer of power utility Eskom Holdings SOC Ltd., Lesetja Kganyago, governor of the central bank and one of his deputies, Kuben Naidoo, are all former senior Treasury officials. They served under Trevor Manuel, who for 13 years as finance minister oversaw the economy's longest period of growth.
"Investors trust the National Treasury because they speak same language," Peter Attard Montalto, a London-based economist at Nomura International Plc, said in an e-mailed response to questions on April 22. "When we see ex-Treasury people in other roles we trust them because we've interacted with them a lot at the National Treasury and so know their personality and how they react to things."
South Africa's economy grew every quarter in the decade until the 2009 recession, and expanded more than 5 percent annually from 2005 to 2007. Government debt shrank from almost 50 percent of gross domestic product in 1994 to 26 percent in 2008. The reduction was one the African National Congress-led government's major victories after 1994, said Nazmeera Moola, an economist and strategist at Investec Asset Management.
Competency Sign
"The Treasury, through the late 90s and early 2000s, completely transformed the fiscal position and all these people were part of it," Moola said by phone from Cape Town on April 20. "I think that's why it's regarded as a sign of competency to have worked there."
Apart from Kganyago and Naidoo, the central bank has drawn several other ex-Treasury officials to top positions. Former Governor Gill Marcus was deputy finance minister from 1996 to 1999. The bank's deputy head of research, Chris Loewald, was in charge of economic policy at the Treasury before joining the Reserve Bank in 2011.
"In a way, the Treasury is very nurturing institution," Kganyago said in an interview in Johannesburg on Thursday. "I grew up in that institution, I rose through the ranks of that institution, it's an institution that invests in developing people and it gives people the space to grow."
Private-sector companies have also drawn skills from the Treasury. Thuto Shomang joined wireless carrier MTN Group Ltd. in 2014 after starting at the Treasury as a trainee financial analyst in 2000, and eventually heading assets and liability management.
Other Officials
Barclays Africa Group Ltd. Chief Executive Officer Maria Ramos was director general from 1996 to 2003 before being appointed head of Transnet SOC Ltd. in 2004, a position held by Eskom's Molefe until last week.
The National Treasury in 2008 seconded Phakamani Hadebe, one of its top officials, to clean up the Land and Agricultural Bank, South Africa's state-owned lender to farmers, by replacing executives and cutting costs. Land Bank sold 500 million rand ($41 million) of floating-rate bonds last year, its first five-year notes in almost 12 years.
"When someone has been involved in the practical part of the financial markets, the market feels the person understands the financial repercussions," George Herman, head of South African investments at Cape Town-based Citadel Investment Services, said by phone on Friday. "If it's just a politician appointed, markets are skeptical about whether the person will understand the financial impact of decisions."
Before it's here, it's on the Bloomberg Terminal.
LEARN MORE