Roland Fryer Wins John Bates Clark Young Economist Award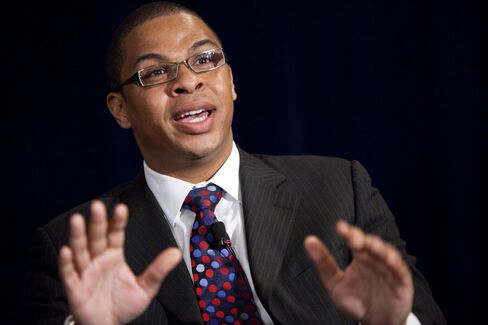 Roland Fryer of Harvard University won the American Economic Association's John Bates Clark young economist award for his work on the economics of race and education, the AEA said on its website.
Fryer's "innovative and creative research contributions have deepened our understanding of the sources, magnitude and persistence of U.S. racial inequality," the AEA said in its announcement on Friday. The 37-year-old Fryer, who is Henry Lee Professor of Economics at Harvard, is the first African-American to receive the prize.
The medal is awarded annually to the American economist under 40 who is judged to have made "the most significant contribution to economic thought and knowledge," according to the association. Recipients have about a one-in-three chance of eventually winning the Nobel Prize in economics, according to data compiled by Bloomberg.
Fryer "is a superstar," said former Treasury Secretary Lawrence Summers, who is also at Harvard and is a past winner of the John Bates Clark medal. "He has brought a new rigor to evaluating education innovation."
Fryer founded EdLabs, the Education Innovation Laboratory at Harvard University, in 2008 to help carry out field experiments in large U.S. urban school districts and continues to serve as its director, according to the AEA.
Black-White Gap
Such work included studies examining the U.S. racial achievement gap as measured by standardized test scores, the AEA said. He and colleague Steven Levitt found that the black-white test-score gap is small during the first year of life and widens thereafter.
Together with Will Dobbie of Princeton, Fryer came up with a bundle of five policies -- frequent teacher feedback, the use of data to guide instruction, high-dosage tutoring, increased instructional time and high expectations -- for schools to follow, the AEA said.
Summers praised Fryer's work on racial inequality. "In an area where scholarship is too often inflected by politics, Roland's work stands out for its dispassionate rigor and real seriousness," he said.
According to a 2005 profile in the The New York Times, Fryer recounted a tough early life, dealing marijuana and selling counterfeit purses from the trunk of his car.
He went on, though, to graduate with a bachelor of arts in economics from the University of Texas at Arlington in 1998 and earned his doctorate in the field from Pennsylvania State University in 2002.
Early Tenure
At age 30, Fryer became the youngest African-American to receive tenure from Harvard, according to a biography on the university's website. He served as chief equality officer in the New York City Department of Education in 2007-2008.
Past winners of the John Bates Clark award, started in 1947 as a biennial prize, include the late Milton Friedman and New York Times columnist and Princeton University professor Paul Krugman.
Matthew Gentzkow, a University of Chicago professor, received the medal last year for his work explaining the role of economics in the news media.
The award is named after the U.S. economist, who died in 1938 after spending most of his career teaching at Columbia University in New York.
Before it's here, it's on the Bloomberg Terminal.
LEARN MORE