Dougan Says Was at Times Hard for American to Lead Credit Suisse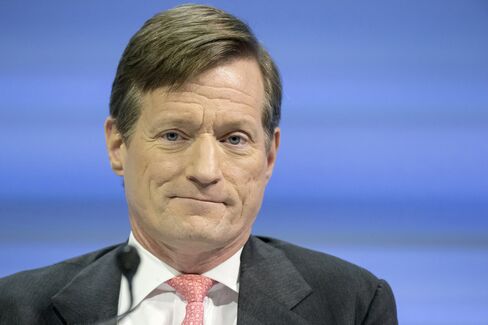 Brady Dougan, the first American to serve as sole chief executive officer of Credit Suisse Group AG, said that there were times when he wished he had considered that fact more before taking on the job.
In his final speech to shareholders Friday after almost eight years as CEO of Switzerland's No. 2 bank, Dougan, 55, expressed gratitude to those who have given him support over the years.
"I know this support is not universal," he added. He recalled that that at his first introduction to shareholders as CEO in 2007, one investor cautioned him about taking on the role.
"He noted that my background seemed adequate, but that I was an American," Dougan said. "He suggested I should take the next year to reflect on the situation. If I still wanted to be CEO, this could be considered at the next AGM.
''There have indeed been a few days when I wish I had taken that advice.''
Dougan, a native of Illinois who is stepping down in June, will be succeeded by Tidjane Thiam, CEO of Prudential Plc. Thiam, a native of the Ivory Coast who rose to become the first black executive of a FTSE-100 company, impressed with his knowledge of German, French and English at the press conference after the announcement of Dougan's succession.
While Dougan's down-to-earth manner and knowledge of markets won him the trust of some shareholders, some Swiss media and retail investors have repeatedly questioned his loyalties as an American and criticized his pay packages and the fact that he doesn't speak German. Still, Dougan kept his post while UBS Group AG, Switzerland's biggest bank, had four CEOs in the same period and needed a state bailout. Sergio Ermotti has led Zurich-based UBS since September 2011.
Conflict Question
Dougan has rarely spoken about the challenge of being an American CEO in Switzerland, a country that prides itself on its traditions and where a referendum to limit immigration was narrowly approved last year. But it is an issue that has at times touched a chord.
A woman at last year's shareholder meeting asked Dougan whether he had a conflict of interest because he was an American. He said he didn't think that was the case but added that employees had asked him the same question.
Dougan also spoke at length Friday about his work as head of the bank, defending in particular how the bank handled the U.S. investigation into helping Americans evade taxes. Some Swiss politicians called for Dougan's resignation after Credit Suisse was fined $2.6 billion last year.
The U.S. tax investigation was ''likely the most significant litigation matter in the history of the bank," Dougan said. "It was not easy, but we achieved a responsible and successful resolution."
Another American to rise to the top was John Mack, who led Credit Suisse together with Oswald Gruebel before the latter became sole CEO in 2004, when Mack was ousted.
Walter Kielholz, chairman of Credit Suisse at the time of Dougan's appointment, told Bloomberg in an interview in 2013 that the biggest Swiss companies need at least the chairman or the CEO to be Swiss. The image of being "dull" has helped Swiss financiers prosper internationally, Kielholz said.
Kielholz, a Swiss citizen, was succeeded by his countryman, the late Hans-Ulrich Doerig, in 2009. Doerig was succeeded by Urs Rohner in 2011, who was reelected Friday in the role. Rohner is also Swiss.
Before it's here, it's on the Bloomberg Terminal.
LEARN MORE