Medvedev Sees Russia Endure Longer Sanctions as Economy Adjusts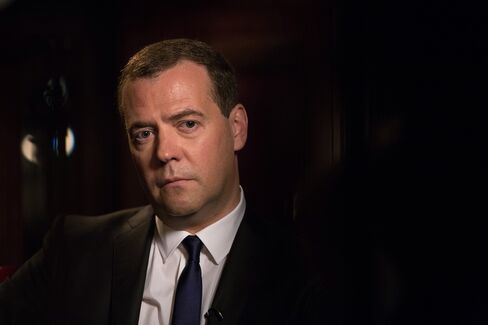 Russia's economy is adjusting to outside pressure and the country won't break the grip of sanctions imposed over Ukraine any time soon, Prime Minister Dmitry Medvedev said.
"Let's face it, external conditions remain unfavorable, and we aren't making forecasts for their rapid improvement," Medvedev said at the Economy Ministry's annual meeting in Moscow on Friday. "Contrary to various apocalyptic predictions, I have a feeling that, unfortunately, we've learned" how to operate under adversity, he said.
The government is growing more confident about the outlook after warning of a hard landing for the economy three months ago following a plunge in oil prices and mounting clashes in neighboring Ukraine. The improving sentiment is playing out in the market, with the ruble poised for a sixth week of advances as oil rebounds from 2009 lows reached in March.
U.S. and European penalties enacted over Russia's actions in Ukraine limited access to international financial markets and spurred outflows of capital. While officials are raising expectations for a quick turnaround that may put the economy on track for growth in the fourth quarter, consumer demand is reeling as job losses and the fastest inflation in 13 years choke household finances.
The government is more upbeat than the central bank, which forecast a contraction of 1 percent to 1.6 percent in 2016 if oil prices average $60-$65 a barrel. The Bank of Russia predicts the economy will shrink as much as 4 percent this year.
Ruble, Bonds
The ruble has advanced 19 percent this year, gaining more than 173 global currencies tracked by Bloomberg. The ruble is rising "more than needed," Finance Minister Anton Siluanov said on Friday.
The world's most volatile currency pared its longest stretch of weekly gains since 2012, slipping 0.4 percent against the dollar by 1:29 p.m. in Moscow. Yields on five-year ruble bonds fell 10 basis points to 11.35 percent. The dollar-denominated RTS index of stocks gained 1.2 percent, taking its year-to-date advance to 32 percent, while the ruble-based Micex rose 0.7 percent to 1,681.19.
Medvedev said price growth has already passed its peak, with the Economy Ministry predicting inflation will ease to as slow as 12 percent by the end of summer, from 16.9 percent last month.
"Serious structural and institutional changes" are needed to accelerate Russia's growth past the world average in the next three years, Economy Minister Alexei Ulyukayev said at the meeting on Friday.
GDP may expand 2.3 percent in 2016 after a drop estimated at 2.8 percent this year, according to the Economy Ministry, which says the contraction reached 2.2 percent in the first quarter. Output may slump 2 percent to 3 percent this quarter, Interfax cited Deputy Economy Minister Alexey Vedev as saying.
Investment will drive the economic recovery next year, Ulyukayev said, calling for the government's sovereign wealth funds to be spent on infrastructure projects.
Before it's here, it's on the Bloomberg Terminal.
LEARN MORE