Mayweather-Pacquiao Resale Tickets Selling for $10,350 Record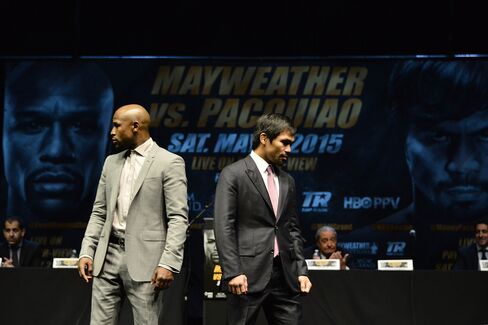 Resale tickets for the May 2 fight between Floyd Mayweather and Manny Pacquiao are selling at an average of $10,350 following Thursday's public sale, still at record levels.
Lower-bowl seats on ticket aggregator SeatGeek are going for an average of $11,753, while upper-level seats are going for $7,218. The average is a 3.5 percent increase from listings before the public sale.
A $17,850 lower-bowl ticket was the most expensive sale in SeatGeek's six-year history, surpassing a $15,000 sideline club seat for this year's Super Bowl.
"The market is shaping up to be the most expensive we've ever listed for a sporting event," SeatGeek communications analyst Connor Gregoire said in an e-mail. "Based on the early resales since yesterday's public sale, the market is supporting the speculative prices that we've been seeing for the last two months."
A limited public sale of less than a thousand tickets for the fight at the 16,800-seat MGM Grand Garden Arena in Las Vegas sold out Thursday in less than one minute, according to the New York Daily News. The rest of the tickets are being split up by the promoters and the casino hosting the match.
$72 Million Gate
Face-value prices were scaled to produce a gate of $72 million, 3 1/2 times more than the $20 million gate generated by Mayweather's 2013 fight against Canelo Alvarez, the previous record for a boxing match.
Resale tickets for that fight sold for an average of $1,616, according to SeatGeek. Lower-level seats for Mayweather-Alvarez sold for 42 percent less than than the cheapest ticket sold on SeatGeek for Mayweather-Pacquiao ($4,650).
Next week's fight is expected to shatter previous boxing revenue records. Conservative estimates from promoters say the fight will produce at least $300 million, split 60-40 in favor of Mayweather.
Before it's here, it's on the Bloomberg Terminal.
LEARN MORE