London Bellwether District Suggests It's Miliband's Year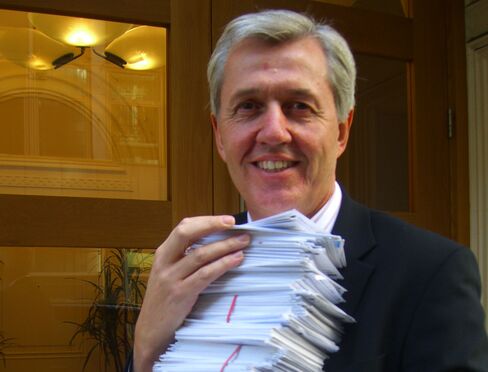 For more than 40 years, no prospective British prime minister has made it to Downing Street without winning the London constituency of Enfield North. Two weeks before the election, the signs from Enfield suggest Ed Miliband is heading for victory.
Nick de Bois, the Conservative lawmaker for the north London district since 2010, is pulling out all the stops to prevent Labour's Joan Ryan replacing him in Parliament. It's among the most vulnerable Tory seats in the country and one of a group of 40 swing districts Prime Minister David Cameron's party is pouring resources into defending. If the findings of an October local poll and more recent London-wide surveys are replicated in the May 7 election, de Bois is set to lose to Ryan by a wide margin.
"The campaign literature is getting more cut-throat and people are stopping me in the street to talk about local issues," de Bois, who considers himself the "definite underdog," said in an interview as he campaigned in the constituency this week. Conservatives "haven't won the air war yet" in television and national media, he said.
De Bois is fighting the election by highlighting what he sees as his opponent's chief weakness -- her role in the 2009 scandal over expenses claimed by lawmakers. Ryan, who represented the district from 1997 to 2010 under Labour Prime Ministers Tony Blair and Gordon Brown, is focusing her campaign on reminding voters of the Tory's failure to stop the closing of departments in the local hospital.
Debate Performance
In recent weeks, the Labour leader's pledge to end the U.K.'s non-domicile tax loophole and his performances in televised election debates have meant voters are "warming to the idea of a Miliband-led government," Peter Kellner, president of polling company YouGov Plc, said in a blog post last week.
The October poll conducted by former Conservative Party Deputy Chairman Michael Ashcroft put Labour ahead in the district by 44 percent to 34 percent. Ashcroft's polls suggest Labour is performing better than implied by neck-and-neck national opinion polls in seats narrowly won by the Conservatives in 2010 such as Enfield North.
A separate YouGov Plc poll Friday for London's Evening Standard newspaper, which found an extended Labour lead in the capital that should see the party gain between 8-10 of its 12 London target seats, including Enfield North, backs up the view that Ryan is heading for victory.
De Bois is fighting back by delving into the past.
'Personal Integrity'
"She got swallowed up last time in the expenses scandal," de Bois said of Ryan. The "issue of personal integrity" is one that he's deploying on the doorsteps of Enfield, he said.
In her final months as a lawmaker five years ago, Ryan was asked by a parliamentary agency to repay about 5,000 pounds ($7,500) wrongfully claimed for mortgage interest. Her expenses claims made her one of London's costliest lawmakers, according to a tally compiled by the Evening Standard.
"It is the only issue he campaigns on practically, which I think shows his desperation," Ryan said of her Tory opponent in a separate interview at her constituency headquarters. "He tries very hard to make it a big issue for people but I find, on the doorstep, I rarely get asked about it."
Away from the expenses issue, de Bois says he hopes the advantage of being an incumbent will also help him defy England's overall swing to Labour from the Tories.
'Very Impressed'
That's true for Enfield voters like Chris Howard, whose family car was recently stolen. Before it was salvaged, the thief accumulated hundreds of pounds in parking and speeding fines. De Bois took up the family's case against the council in another London borough, Camden, which had sent letters demanding payment of the charges. "Dad and I are very impressed with him," Howard said.
Other voters are unconvinced.
"Last time I voted Conservative and achieved nothing great as a result," said Vincent Kennedy, an 86-year-old retired salesman for GKN Aerospace. He's upset with his treatment at the local Chase Farm Hospital, where he says there are too many junior staff and not enough specialists, and is considering voting Labour this time.
The Conservatives' local reputation suffered a blow in 2011 when the government confirmed that maternity and emergency services at the hospital would close, despite a high-profile 2007 pledge by Cameron, then the opposition leader, that they wouldn't if he became prime minister.
'Total Betrayal'
"It's a total betrayal" and "symbolic of the wider issue -- people are very conscious that the NHS is in crisis, that waiting times and waiting lists are going longer," said Ryan. The Tories and their Liberal Democrat coalition partners argue that patient satisfaction with and funding for the state-run National Health Service are rising.
Ryan has a team of dozens of activists, many of them young, distributing leaflets and knocking on doors. The Conservatives' campaign will be aided next week by what de Bois said is a small, unsolicited group of Young Republican activists from the U.S.
Labour is contacting more voters in key swing seats, according to polling by Ashcroft, who has spent millions of pounds collecting constituency-level data. The Tories "are currently losing both the air war and the ground war," YouGov's Kellner said.
Before it's here, it's on the Bloomberg Terminal.
LEARN MORE