Kaisa Stirs Commodity Bears Eyeing China's Property Slowdown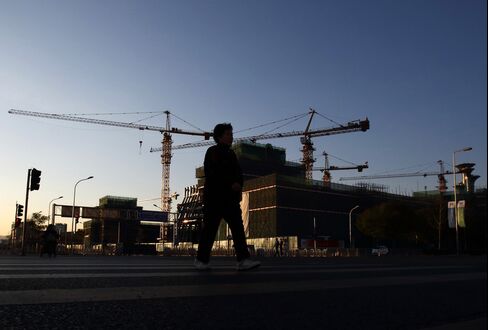 Kaisa Group Holdings Ltd.'s bond default this week underlines how China's faltering property sector is threatening to blunt any rebound in commodities prices.
As much as half of the country's copper consumption and about 35 percent of its steel use is related to housing and real estate, according to Goldman Sachs Group Inc. China's new property starts slid 18 percent in the first three months of the year as a downturn in economic growth leaves a backlog of unsold homes and depressed prices.
Commodities slumped to a 12-year low last month after a decade-long bull market spurred a boom in supply just as demand slowed in China. The world's biggest metals and energy consumer is facing its weakest economic expansion since 2009 amid a construction downturn that's likely to cap its raw material use. Kaisa was the country's first property company to default on its U.S. dollar debt.
"The property market will continue to be a drag on metals," said Daniel Kang, a Hong Kong-based commodity analyst at JPMorgan Chase & Co. Kaisa's default is a "signal of weakness in China's property sector," he said.
Construction may continue to slow after the government took steps to reduce the availability of new land for development, weighing on copper demand growth, Goldman analysts including Max Layton wrote in an April 6 report.
Consumption of the metal in China, which accounts for almost half of world demand, will grow 2.6 percent this year, the weakest pace since at least 2007, according to Morgan Stanley estimates as of March 24. Global use will increase 2.4 percent, the bank forecast.
Commodity Slide
More than 70 percent of copper used in China's property industry is in wires and cables installed in the final stages of construction, Macquarie Group Ltd. said in a report this week. The country's demand for the metal slid less than 1 percent in the first quarter amid a slowdown in the housing sector and a "cyclical correction" in some manufacturing, according to the bank.
"Falling construction completions will continue to put pressure on copper demand in construction into the year end," Macquarie said.
The Bloomberg Commodity Index of 22 raw materials has fallen 2.5 percent this year, extending its 17 percent slide in 2014. Copper on the London Metal Exchange is down 5.2 percent after dropping to a five-year low of $5,395 a metric ton in January. Prices rose 0.5 percent to $5,971.50 a ton at 4:04 p.m. in Hong Kong.
'Considerable Fears'
Out of 17 analysts, traders and hedge funds surveyed by Bloomberg at the World Copper Conference in Santiago this month, nine expected copper to revisit or fall below its low this year while eight said the worst is over.
"Considerable fears over real demand, particularly in China, were expressed and some participants have become extremely bearish," Vivienne Lloyd, a Macquarie Group Ltd. analyst, said in a review of the conference published this week.
China's steel demand will fall this year and next, after contracting last year for the first time since 1995, according to the World Steel Association. The country accounts for almost half of global use of the alloy.
The Shanghai Futures Exchange contract for steel-reinforcement bar, used in construction, slid this month to the lowest since trading began in March 2009. Prices are down 8.3 percent this year.
Recovery Signs
Kaisa's troubles started in October, culminating in Monday's missed payment. Anti-graft probes, incomplete financial disclosure and wayward corporate governance have all been blamed for the decline of a company that had $1.5 billion of cash only 10 months ago.
The housing market may be starting to recover after the government relaxed home-purchase restrictions. Fewer Chinese cities saw new home prices fall last month compared with the month earlier, the National Bureau of Statistics said on Saturday.
The People's Bank of China last month cut the minimum deposit for buying a second home to 40 percent from 60 percent and exempted owners from paying a 5.5 percent sales tax if they sell after two years.
"End-sales volumes are looking healthy" in first-tier cities, said Ian Roper, a Singapore-based commodity strategist at CLSA Ltd. The effect on steel demand may be limited because the properties tend to be smaller, while a "massive overbuild" has left empty apartments with as many as five bedrooms on the edges of lower-tier cities, he said. "That's where you have the real inventory overhang."
Clearing Oversupply
The oversupply may take 14 months to clear in first-tier cities such as Beijing and Shanghai, JPMorgan's Kang said. It may be as long as two years before it's cleared in second- and third-tier cities. Kaisa focused on residential property in the top two tiers, according to its website.
"The worry is we have not seen the worst of the defaults and the question is how that flows down the chain," said Jeremy Goldwyn, head of business development in Asia at Sucden Financial Ltd., a broker. "It's a question of where do these defaults happen and how will they affect the market."
Before it's here, it's on the Bloomberg Terminal.
LEARN MORE