Chinese Billionaire Guo Says 'Vibrant' U.S. Economy Entices Him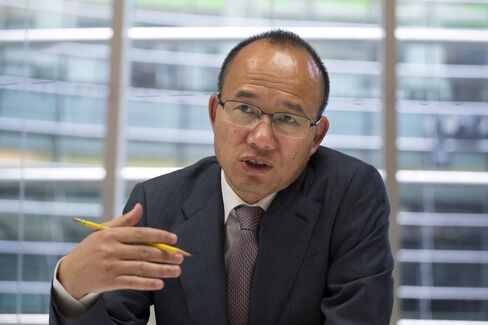 Chinese billionaire Guo Guangchang, who calls himself a student of Warren Buffett, says the stronger dollar and his nation's slowing economy aren't deterring him from investing in the U.S. or at home.
The 48-year-old founder and chairman of Fosun Group, which owns Club Mediterranee SA and recently bought a stake in Cirque du Soleil Inc., is seeking health-care, tourism, commodities and fashion purchases.
The U.S. market is "vibrant" and Fosun has "many deals" under discussion, even after asset prices went up "a lot," Guo said in an interview at Bloomberg's headquarters in New York on Thursday. "We are certainly interested in good assets, but we'll be more careful. It's very hard to find attractive property deals compared with two years ago."
Fosun, China's largest closely held conglomerate, has spent almost $25 billion on purchases abroad since 2010, according to data compiled by Bloomberg. Deals include French resort operator Club Med and Raffaele Caruso SpA, an Italian maker of $3,300 men's suits. It also bought 60-story One Chase Manhattan Plaza in New York, which it renamed 28 Liberty and uses as its U.S. head office.
While real estate prices have surged since Fosun bought the tower from JPMorgan Chase & Co. in 2013, they still have room to increase, Guo said, citing the U.S.'s "attractive" economy and immigration policies. Guo, wearing a Caruso suit, said he visits the U.S. three or four times a year.
Breaking Records
Commercial property in the U.S. is breaking records set during the boom in 2007, topping pre-crisis peak worth by about 7 percent, according to an index from Moody's Investors Service and Real Capital Analytics Inc. The rebound is led by big cities like New York and San Francisco, where top-tier buildings' values are 22 percent above the last peak.
The dollar has gained almost 5 percent this year, according to the Bloomberg Dollar Spot Index, which tracks the currency against 10 major peers. It's surged 23 percent against an index of major currencies at the end of the first quarter from a year earlier.
Fosun is interested both in trophy properties in major cities and tourism-related properties that fit with its strategy for Club Med, Guo said.
"Be fearful when others are greedy and greedy when others are fearful," said Guo, citing Buffett. He said he's not concerned about the slowing economy in China, where first-quarter growth slipped to 7 percent, the weakest pace since 2009.
'New Normal'
While China's economy has entered a "new normal," it's still a big engine of global growth, Guo said. He said his investment philosophy is to combine China's growth with the world's resources.
The company will also "definitely" invest in more insurance companies in Europe and U.S. in the coming two years, Guo said.
The "size" of his next target insurer will be similar to Cia de Seguros Fidelidade SA, a unit of Portugal's Caixa Geral de Depositos SA, which Hong Kong-listed unit Fosun International Ltd. bought 80 percent of last year, Guo said.
Fosun International offered $433 million in December to buy Southfield, Michigan-based property-casualty-focused Meadowbrook Insurance Group Inc., and agreed last year to buy a stake in Bermuda-based Ironshore Inc.
The company is also said to be looking at Bermuda-incorporated OneBeacon Insurance Group Ltd. and weighing a bid for commercial property broker Cushman & Wakefield Inc. Guo declined to comment on specific deals.
Guo's wealth has jumped by 81 percent this year to $7.8 billion, according to the Bloomberg Billionaires Index. His closely-held Fosun Holdings Ltd. controls Fosun International and Hong Kong- and Shanghai-listed drugmaker Shanghai Fosun Pharmaceutical Co.
Guo, who said he's effectively Fosun's chief investment officer and approves every deal himself, mimics Buffett's approach at Berkshire Hathaway Inc. as a value investor, taking large long-term stakes.
"We are a loyal student of Buffett," Guo said. "But we are deeply rooted in China and we are much younger."
Before it's here, it's on the Bloomberg Terminal.
LEARN MORE