Avoid 'Great Deleveraging' for U.S. Stock Payoff, Barclays Says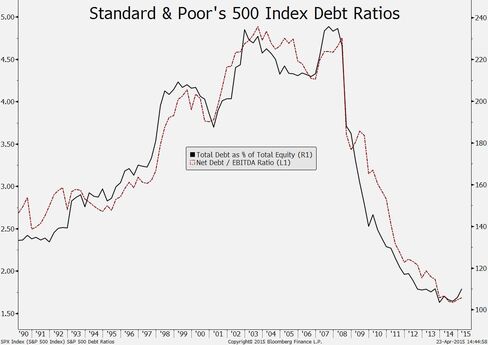 Companies are going through "a great deleveraging" that stock investors are better off avoiding, according to Jonathan Glionna, chief U.S. equity strategist at Barclays Plc.
The attached chart compares the debt of Standard & Poor's 500 companies to their equity and to earnings before interest, taxes, depreciation and amortization, as Glionna did two days ago in a report.
The debt-to-equity indicator peaked in the third quarter of 2007 and dropped as much as 56 percent since then, according to data compiled by Bloomberg. The debt-to-Ebitda ratio -- derived from net debt, or borrowing minus cash on hand -- fell as much as 67 percent from a high in 2003's third quarter.
S&P 500 companies outside of finance have $880 billion of "excess equity" at their disposal to repurchase shares and to use for other purposes, Glionna wrote. "But we do not expect this to happen."
Investors would benefit if it did, according to the New York-based strategist. He cited figures showing the shares of companies whose debt-to-equity ratios are relatively high and rising performed better than the stock of the least-indebted companies since 2000.
Glionna cited 22 U.S. companies that have become more dependent on debt financing, rather than equity. AbbVie Inc., Home Depot Inc., International Business Machines Corp., United Parcel Service Inc. and Verizon Communications Inc. were the five biggest by market value.
Before it's here, it's on the Bloomberg Terminal.
LEARN MORE