Anzac Centenary Draws Huge Crowds in Australia, New Zealand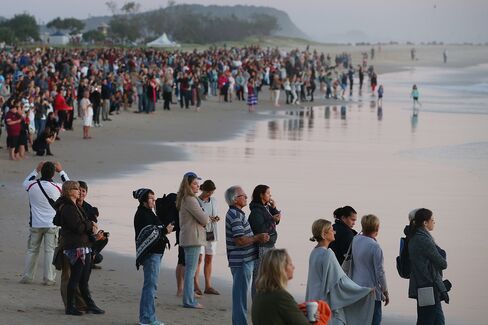 Record crowds commemorated the centenary of Anzac Day in Australia and New Zealand on Saturday, packing dawn services that paid tribute to their nations' war dead and veterans.
More than 120,000 people attended the Australian War Memorial ceremony at the national capital Canberra, more than double last year's figure, the memorial's director Brendan Nelson said. Organizers estimated record crowds in both Sydney and Melbourne, while thousands gathered in New Zealand cities including Auckland and Wellington.
Anzac Day commemorates each April 25 the first major military actions Australia and New Zealand took as independent nations, when they joined the 1915 British-led attack on Gallipoli, a peninsula in what's now Turkey. The attack ultimately failed, with troops withdrawn eight months later and more than 10,000 soldiers from the two nations dead.
The Gallipoli campaign and subsequent battles on the European front led Australians to regard their involvement in World War I as the dawn of a national identify. Anzac Day now commemorates the sacrifice its soldiers have made in all military actions, including World War II, the Korean and Vietnam wars, and more recently in Iraq and Afghanistan.
Thousands of Australians and New Zealanders also journeyed to the Gallipoli bay -- now known as Anzac Cove -- that's the site of the landing 100 years ago. Prime Ministers Tony Abbott and John Key joined countrymen for a dawn service at the site on Saturday, while other commemorations took place at Villers-Bretonneux and Bullecourt in France.
"In volunteering to serve, they became more than soldiers," Abbott said at the Anzac Cove service. "They became the founding heroes of modern Australia."
Before it's here, it's on the Bloomberg Terminal.
LEARN MORE