American's CEO Explains Why He Wants to Be Paid Only in Stock
Times are so good for U.S. airlines that one CEO has decided to get by on his company's stock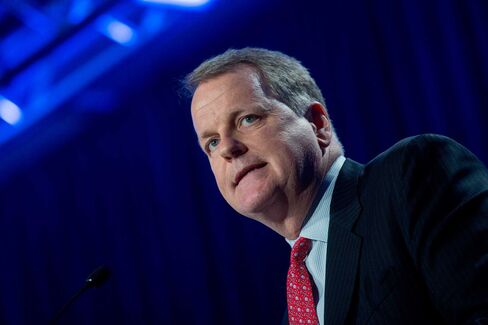 Investors wondering whether U.S. airlines have sorted out the key to sustained profits, consider this: The chief executive officer of the world's largest airline, American, says the industry is so financially safe that he's asked to be paid only in company stock.
"I wouldn't be doing this if I thought it was still the same old airline business, because it's not," Doug Parker said on Friday in a quarterly earnings call, explaining his reasoning two days after American released executives' 2014 compensation. "I'm not suggesting there is not still risk in airline stocks, but we're really bullish on what the outlook is for years to come."
Given the spate of consolidation and airlines' chokehold on capacity growth, the Big Four U.S. carriers are confident that they have managed to tame the economic cycle so recessions will no longer plunge the industry deep into red ink. And in the flush times airlines no longer scramble to boost their fleets and steal market share from rivals, which left them financially vulnerable whenever the economy contracted and travel demand slowed. On Friday, American reported a $1.2 billion income for the first quarter, a period when U.S. airlines are expected to post a collective record profit near $3 billion, according to Bloomberg data.
"Yeah, it's still a cyclical business but the peaks are much, much higher than they were before and therefore the troughs are going to be much, much higher and I think the swings are going to be much less," Parker said. Today, all of the U.S. airline management teams have committed themselves to only profitable expansion and to returning income to shareholders—which, of course, includes themselves. American shares have gained about 39 percent over the past year, to $53, and have doubled since American and US Airways formally merged in December 2013.
Parker, 53, becomes only the fifth CEO of S&P 500 index companies to forgo cash compensation, joining the CEOs at Facebook, Kinder Morgan, Google, and Fossil Group. Parker earned $12.3 million last year, including $7 million in stock awards. His compensation also included a cash incentive payment of $4.2 million, base salary of $688,000, and $216,000 in relocation expenses American paid for him to move from Arizona to Dallas-Fort Worth.
Before it's here, it's on the Bloomberg Terminal.
LEARN MORE