By Melissa Allison, Zillow
In the increasingly land-starved Los Angeles real estate market, people can't get enough of modern mansions. They're going up everywhere, in many cases replacing not-so-old homes with concrete and walls of glass. Here are some examples of what's all the rage in and around the City of Angels.
Santa Monica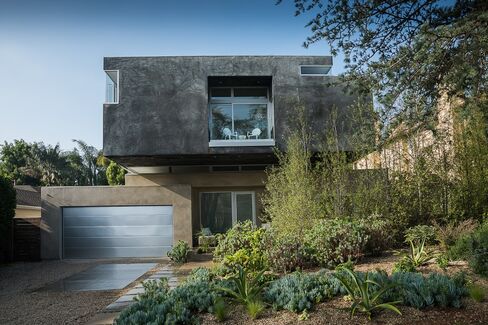 528 25th St., Santa Monica
For sale: $5.995 million
Built for relaxation and large-scale entertaining, this home features a sleek modern kitchen, an open floor plan with concrete floors, and oodles of natural light. A floating stainless-steel staircase leads to the second floor, where the master suite boasts a deep soaking tub with glass walls on two sides and views of the backyard. It was built with an ecological conscience, including solar hot water and electricity, radiant heat, and a garage with two electric-car chargers—plus a large grassy area out back, suitable for garden parties and watching hummingbirds. The listing agent is Laura Brau of Partners Trust. View more homes on the market in Santa Monica.
Beverly Hills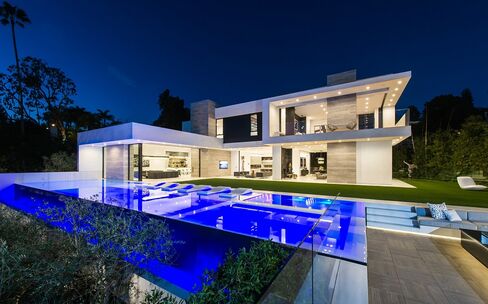 9945 Beverly Grove Dr., Beverly Hills
For sale: $35 million
In the coveted 90210 ZIP code, developer Avi Osadon and his wife, Shelly, have created a modern mansion that's large beyond its 10,519 square feet. From the 1,100-pound front door to the 36-foot grand foyer and the drive-through garage with its own television and canyon view ("So the space that houses their Bugatti is just as nice as the house," Shelly says), the home is made for people who think big. Details include steel-encased wood stairs, a window looking from a basement room into the depths of the infinity-edge swimming pool, plus 4 out of 10 bathrooms with heated toilets that also act as high-end bidets with cleaning and blow-drying services. The listing agents are Santiago Arana of The Agency and Ginger Glass of Coldwell Banker Previews International. See more listings in Beverly Hills.
Holmby Hills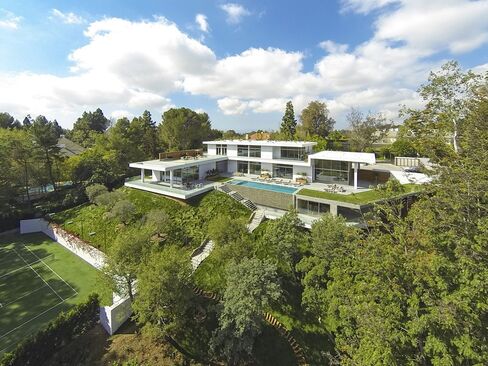 438 N. Faring Rd., Los Angeles
For sale: $35.5 million
In Holmby Hills—where the Playboy Mansion was once supposedly linked by tunnels to the homes of Jack Nicholson, Warren Beatty, and Kirk Douglas—this contemporary estate beckons with 7 bedrooms, 9 bathrooms and a dramatic 2-story living room. It sits on 1.4 acres of parklike grounds with an infinity pool, a cascading waterfall, and a championship-grade tennis court. The listing agents are Kurt Rappaport of Westside Estate Agency and James Harris, David Parnes, and Mauricio Umansky from The Agency. View other homes for sale in Holmby Hills and Bel-Air.
Sunset Strip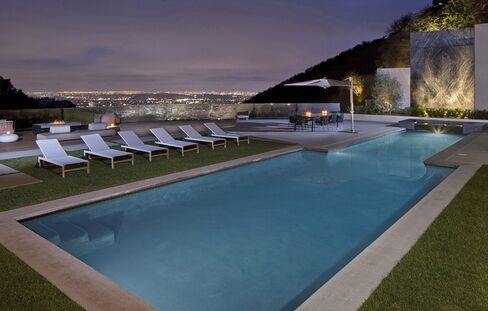 1877 Rising Glen Rd., Los Angeles
For sale: $17.75 million
High above Los Angeles's famed Sunset Strip—that stretch of road where Lana Turner partied, the Doors played, and Marilyn Monroe sipped Coke by a pool—sits this deluxe, 8,200-square-foot compound with towering ceilings and an open floor plan perfect for entertaining. It features a separate gym and guest suite, plus a bar, theater, and heated saltwater pool with underwater speakers. The listing is held by Stephen Resnick and Jonathan Nash of Hilton & Hyland and Billy Rose of The Agency. Check out more homes in the Hollywood Hills.
Bird Streets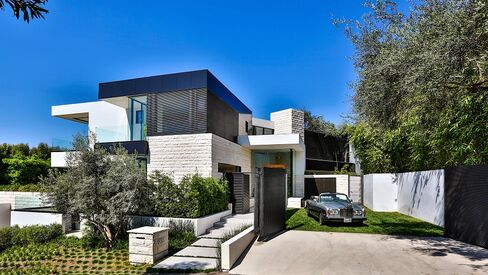 9133 Oriole Way, Los Angeles
For sale: $38 million
Celebrities flock to this neighborhood, where the streets are named for birds and the views are expansive. This spring, this one knoll carried a dozen construction sites—for homes whose owners will be neighbors with Leonardo DiCaprio, Keanu Reeves, and Michael Bublé. This home, built in 2014, measures 12,530 square feet. Its master suite alone takes up 2,000 square feet, with a soaking tub, his and her showers and dressing areas, and a glass wall with sweeping views of the city. The listing agents are Branden and Rayni Williams of Hilton & Hyland and Ben Bacal of Rodeo Realty. Check out more listings in and around the Bird Streets.
Venice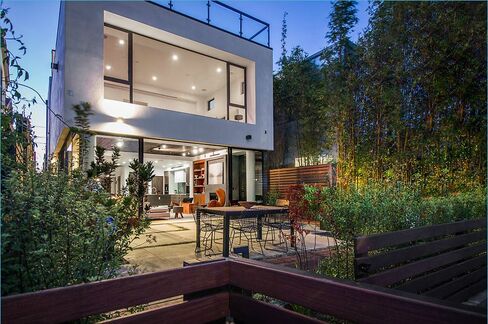 229 Linnie Canal, Venice
For sale: $4.878 million
The vibe in Venice is laid-back and beachy, like this new 3,631-square-foot home right on a canal. It boasts an elevator, floor-to-ceiling windows, and walls of glass that open onto a private patio with a fire pit. Two huge roof decks offer 360-degree views of the city and the beach a few blocks away, where Arnold Schwarzenegger once flexed. The listing agent is Tami Pardee of Pardee Properties. See more homes for sale in Venice.
Bel-Air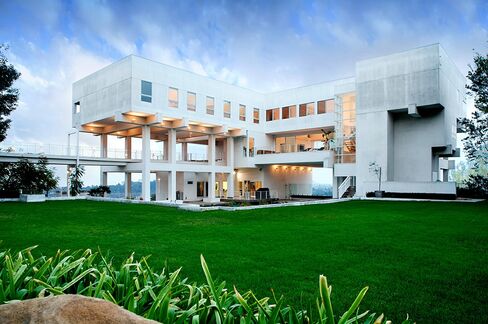 15210 Antelo Pl., Los Angeles
For sale: $16.5 million
Sandwiched between the famed Mulholland Drive and posh Bel-Air, this estate by architect Ted Tokio Tanaka was built in 1986 and completely overhauled in 2008. It sits on 3.2 acres with city and ocean views and features a glass elevator, sun-filled rooms, and walls of glass that open onto generous lawns, a pool that's integrated into the home's design, and a tennis court. Kurt Rappaport is the listing agent for this home. View more listings in Bel-Air.
Malibu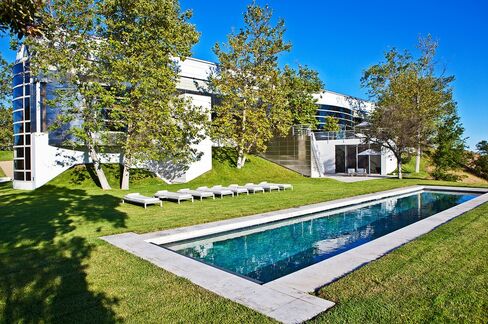 33583 Mulholland Hwy., Malibu
For sale: $8.695 million
Just up the Pacific Coast Highway from Los Angeles is the outdoor playground of Malibu, where surfers strut and celebrities relax—or, in the case of this home, where they shoot films, television shows, and music videos. The 7,000-square-foot showplace has been a set for Face/Off; Gone in 60 Seconds; Beverly Hills, 90210; Britney Spears's Work B**ch video; and Chris Brown's Fortune album photos. The listing agent is Sandro Dazzan of Coldwell Banker. See what else is for sale in Malibu.
Mar Vista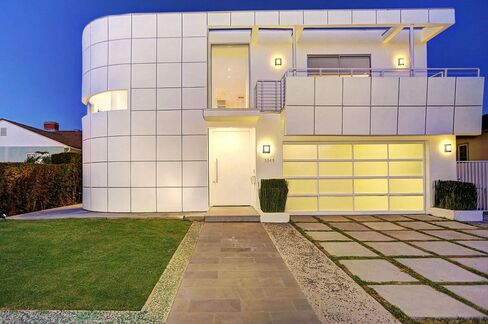 3040 Mountain View, Los Angeles
For sale: $2.795 million
Natural light floods this modern home, which features 22-foot ceilings, glass walls, and jetliner views of the city. All four bedrooms boast en suite bathrooms. The listing agent is Eric Hass of Partners Trust. See more homes for sale in Mar Vista.
Pacific Palisades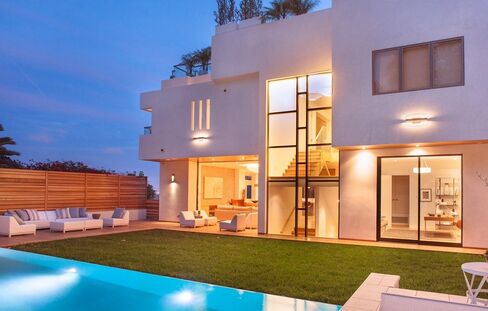 15301 Whitfield Ave., Pacific Palisades
For sale: $6.195 million
There's a joke in Los Angeles real estate that the rich live in Beverly Hills, the famous in Malibu, and neither in Pacific Palisades. It's not true. Famous residents have included Ben Affleck and Jennifer Garner, Rosanna Arquette, Dan Aykroyd, and Tyra Banks. It's just a quiet area that happens to have some of the best city and ocean views around—including from this new mansion with walls of glass that open onto a large yard with an infinity pool. There's also a rooftop deck with a fire pit and hot tub. Santiago Arana is the listing agent for this home. View more homes for sale in Pacific Palisades.
More from Zillow:
Before it's here, it's on the Bloomberg Terminal.
LEARN MORE