U.K. Borrowing Falls, So Do Retail Sales, as Election Looms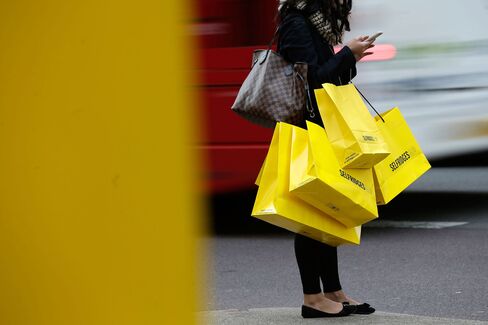 U.K. retail sales unexpectedly fell in March and the government undershot its borrowing forecasts in the latest fiscal year, providing ammunition for both sides in the fight for the general election.
Sales including auto fuel fell 0.5 percent from February, the Office for National Statistics said in London Thursday. Economists in a Bloomberg News survey had forecast a 0.4 percent increase. Sales excluding auto fuel rose 0.2 percent, less than half the gain expected.
Separate figures showed the budget deficit in the fiscal year ended March narrowed more than officials estimated after Britain posted the smallest shortfall for any March in 11 years.
The retail sales figures suggest the economy may have lost momentum in the first quarter. Prime Minister David Cameron has struggled to turn the recovery into votes for his Conservative Party, which remains tied with the Labour opposition two weeks before the election with neither party on course to govern alone.
"Overall, disappointing," Alan Clarke, an economist at Scotiabank in London, said in a note. "It may well be that consumers maxed out before Christmas in a discount-fueled frenzy and the post-Christmas period is experiencing a pause for breath. The monthly data all point towards sluggish Q1 GDP, not the sort of reading that the coalition government will be hoping for."
Growth Slowdown
The pound fell 0.1 percent against the dollar to $1.5058 as of 5:40 p.m. London time. The 10-year gilt yield declined 2 basis points to 1.69 percent.
Retail sales, which account for 5.7 percent of gross domestic product, grew 0.9 percent in the first quarter, down from 2.2 percent in the final three months of 2014. The ONS will publish its initial estimate of economic output for the first quarter on Tuesday.
Last month's slump came as fuel sales dropped 6.2 percent, the most since April 2012, a month affected by fuel shortages. There was a mixed picture elsewhere, with sales at department stores falling and clothing and household-goods retailers posting gains. Food sales rose 0.4 percent. Compared with a year earlier, retail sales were up 4.2 percent and by 5 percent if fuel is excluded.
Tax Boost
Whichever party wins on May 7 faces a budget deficit of almost 5 percent of GDP five years after Cameron's coalition of Tories and Liberal Democrats took office in the wake of the financial crisis.
Chancellor of the Exchequer George Osborne, who inherited a shortfall of more than 10 percent in 2010, warned Thursday of a "dangerous cocktail" of a Labour government supported by the anti-austerity Scottish National Party. Labour accuses the Tories of failing to meet a 2010 pledge to erase the deficit within five years and said it would finish the job if elected, borrowing only to fund capital investment. Neither party is likely to get a parliamentary majority.
In March, net borrowing excluding public-sector banks was 7.4 billion pounds ($11 billion), the smallest deficit for the month since 2004. The full-year gap narrowed by 11 billion pounds to 87.3 billion pounds, below the 90.2 billion pounds forecast by the Office for Budget Responsibility last month.
The measure used to calculate how much the Treasury needs to borrow in the financial markets was also less than forecast, allowing the Debt Management Office to scale back its planned gilt sales in 2015-16 by 2.5 billion pounds to 130.9 billion pounds.
The Treasury benefited in the latest financial year from the shifting of income to take advantage of a cut in the top tax rate. At 169.7 billion pounds, income-tax receipts were the highest on record and up 5 percent on the year.
Spending barely rose as the fall in inflation to zero reduced payments on index-linked gilts and some welfare costs. Net debt climbed to a record 1.48 trillion pounds, or 80.4 percent of GDP.
Before it's here, it's on the Bloomberg Terminal.
LEARN MORE