Real Estate Rally Breathing Life Into Commercial Mortgage Bonds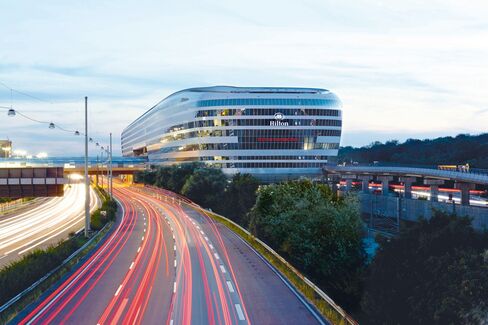 Signs of life are starting to appear in Europe's commercial mortgage bond market, frozen since the financial crisis crushed real estate values seven years ago.
Bank of America Corp. sold 445 million euros ($478 million) of notes in the biggest deal this year on Thursday, while Royal Bank of Scotland Group Plc is marketing bonds tied to debt on 20 U.K. properties that fell into the hands of administrators.
Issuers are forecasting the busiest year since 2007 as record-low returns from fixed-income assets spur money managers to buy real estate, reinvigorating Europe's 50 billion-euro market for commercial mortgage-backed securities. The bonds became a byword for distress during the crisis, when the value of thousands of properties dropped to less than outstanding debt.
"CMBS is an asset class that is primed to do well," said Gordon Kerr, head of European structured finance research at credit ratings firm DBRS Ltd. in London. "Conditions are just right for issuance, with property prices going up in many parts of Europe, hedge fund and private equity firms looking to recycle capital, banks originating new loans and investors reaching for anything with a bit of yield."
New bonds from Bank of America and RBS will take sales this year to 1.3 billion euros, a tenfold increase from the same period last year, according to data compiled by Bloomberg and JPMorgan Chase & Co. The European bond market contracted by about 40 percent since 2010, after a slump in property prices stopped landlords refinancing loans and investors shunned the debt after nursing losses.
The Squaire
Bank of America's notes are secured by a loan refinancing The Squaire, a Frankfurt office and hotel complex so large it boasts its own postal code. IVG Immobilien AG, the building's owner and once Germany's biggest real estate firm, borrowed from the U.S. lender after a 3.2 billion-euro debt restructuring triggered by the real estate slump.
A record 20 percent increase in European commercial real estate values last year was accompanied by a 55 percent rise in real estate lending. That's providing the raw material for new commercial-mortgage bonds.
"The key to regular CMBS issuance is loan origination," said Clive Bull, who manages the European commercial real estate group of Deutsche Bank AG in London. "With deals from Italy, Ireland, the U.K. and Germany already seen this year, we are optimistic on growth."
The German lender last month arranged the first sale of notes backed by Irish commercial mortgages since the financial crisis.
Primed for Deals
With the European Central Bank pledging to buy 1.1 trillion euros of debt, yields on fixed-income securities have touched record lows. That's another reason the CMBS market is primed for deals, said Felix Blomenkamp, the head of Pacific Investment Management Co.'s European asset-backed securities team.
Investors on average demand 162 basis points of extra yield to hold top-rated European commercial mortgage-backed notes compared with benchmark rates, according to JPMorgan. That's down from 185 basis points a year ago and compares with 24 basis points on Dutch bonds secured by home loans.
"The conditions are generally good for the commercial real estate market as investors are searching for yield," said Pimco's Blomenkamp. "CMBS is part of that story and I would expect to see more new issuance over the next quarters."
Before it's here, it's on the Bloomberg Terminal.
LEARN MORE