Le Pen's Latest Scion Goes From Poster Child to Star in France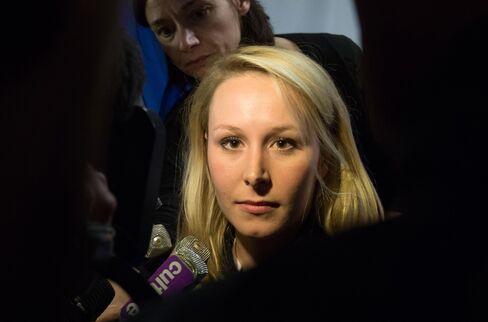 French far-right politician Marion Marechal-Le Pen was still a blond babe-in-arms when she made her first appearance on a campaign poster with her grandfather, National Front founder Jean-Marie Le Pen.
Now, three years after becoming France's youngest lawmaker, the 25-year-old former law student is gaining in the polls as one of party's most credible members and the darling of a new generation of hard-liners who see France's main problems as Brussels, Muslims and the mainstream parties.
"She's going to be a star," Nice Mayor Christian Estrosi, her rival in this December's race to head the governing council for the Provence and Cote d'Azur region, told Valeurs Actuelles magazine. If Marechal-Le Pen wins, it will give her "an incredible national launch-pad," he said.
A poll last week by Odoxa for newspaper Le Parisien showed 40 percent of French people have a favorable opinion of Marechal-Le Pen, an increase of seven points over the last five months. And though 51 percent of those questioned described her as "racist," 60 percent also said she was "courageous."
The National Front's bid to join the French political mainstream began in 2011 when Marion's aunt Marine Le Pen took over from Jean-Marie as party head. Marine came third in the 2012 presidential race, and two party members -- including Marion -- were elected to the National Assembly for the first time since 1997.
Since then, the FN, as the party is known in France, has taken the top spot in the 2013 European elections and in September won its first seats in the French Senate. In March's local ballot, the National Front gained elected officials across the country, although it failed to win any district outright.
Natural Choice
Marine Le Pen's focus on presenting a more palatable protectionist, anti-European platform ahead of the 2017 presidential elections has angered some on the more conservative wing of the party, who now see Marechal-Le Pen as the natural choice for the next leader.
Her talent for steering clear of warring factions within the party and her close relationship with her grandfather made her a go-between earlier this month during a public spat between Marine Le Pen and her father.
Jean-Marie Le Pen's description of the Nazi gas chambers as a "historical detail" and his defense of French Vichy regime leader Petain in a magazine interview were swiftly disowned by Marine, who threatened him with disciplinary action and barred him from standing as an official candidate in the Provence election.
Extreme Views
It was left to his granddaughter to calm things down, getting Le Pen senior to agree to withdraw in favor of her own candidacy, even though she too has distanced herself from her grandfather's more extreme views, telling regional newspaper La Provence that she doesn't identify with "the Front National of the 1970s, post-Algerian war."
Marechal-Le Pen grew up with her mother Yann, Jean-Marie Le Pen's second daughter, on the family estate in Montretout, west of Paris, just a stone's throw from her grandfather and her aunt Marine.
Although she has said the family didn't discuss politics at home, she became a card-carrying member of the National Front at the age of 18. A devout Christian, she is seen by some as the guardian of the party's morals and traditions.
She "is politically astute," said Henry de Lesquen, a supporter and commentator on Radio Courtoisie. "She stands out from her aunt because she hasn't turned to the urban, cosmopolitan and left-wing crew" for support.
Conservative and Reactionary
"Marion is more conservative and reactionary than her aunt," according to Joel Gombin, a researcher on the National Front at Picardie University in northern France. "But they share a goal: to drive immigrants and Muslims out of France."
Since her election to the France's National Assembly, Marechal-Le Pen has tried to make up for her inexperience as a lawmaker by adopting a high profile, aggressively questioning government members and sending 85 written questions to ministers, four times what the leader of opposition party UMP Christian Jacob sent.
She hasn't been afraid to cross swords with Socialist Prime Minister Manuel Valls in parliament, telling him to keep his "idiotic contempt" to himself, after he accused her of "fooling" voters.
Still, "she hasn't shown much substance or given any precise political plans and she avoids going into specifics," according to Gombin. Her rising popularity and relations with potential rivals have created some resentment within the party.
The National Front "isn't a family dynasty, there are many young people moving up in the party," Florian Philippot, the 33-year-old party vice-president and deputy to Marine Le Pen, said on France Info radio last week.
For many observers, though, Marechal-Le Pen has time on her side, and if she continues to gain momentum, rival UMP party lawmaker Philippe Houillon's prediction that "Marine won't become President but Marion will" may not seem outlandish.
Before it's here, it's on the Bloomberg Terminal.
LEARN MORE