Junk-Food Revival: New Items Boost Sales at Domino's, Dunkin'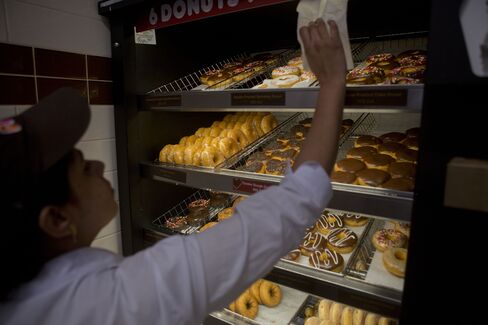 Americans still love junk food.
Dunkin' Brands Group Inc. and Domino's Pizza Inc. reported first-quarter sales that topped analysts' estimates as expanded menus -- with new items such as bacon-topped breaded chicken and spicy omelet sandwiches -- helped bring in more customers.
Dunkin Donuts' U.S. same-store sales rose 2.7 percent, and Domino's posted a 15 percent increase at domestic locations.
The gains were fueled partly by new foods that don't exactly court health-conscious diners. Dunkin' said croissant doughnuts helped drive first-quarter sales, while Domino's cited its breaded chicken bites smothered in pizza toppings.
"We want our customers intrigued," Dunkin' Chief Executive Officer Nigel Travis said in an interview. "You have to make sure people see something that's new."
Dunkin' earlier this year started selling a spicy omelet breakfast sandwich with egg, bacon, jalapeno peppers, red peppers and pepper-jack cheese. The chain also is testing a bacon deluxe doughnut in some locations.
Domino's has even dropped the word "pizza" from its stores to highlight that they sell other food, too.
Shares of both companies rose after reporting sales and earnings results on Thursday. Dunkin' climbed as much as 8.9 percent to $51.97 in New York, the largest intraday increase in more than two years. Domino's rose as much as 11 percent to $110.66, the biggest intraday gain in six months.
Before it's here, it's on the Bloomberg Terminal.
LEARN MORE