ICBC Topples Wells Fargo as World's Most Valuable Bank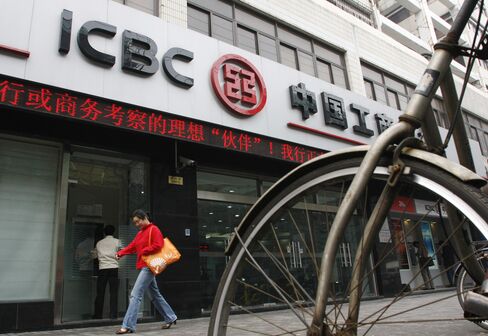 Industrial & Commercial Bank of China Ltd. is winning its duel with Wells Fargo & Co. for the title of world's most valuable bank as China's government rolls out stimulus and a buying frenzy drives up the nation's stocks.
Since overtaking the 163-year-old Wells Fargo on April 7, Beijing-based ICBC has widened the gap. ICBC's market capitalization was $315 billion on Thursday, 11 percent more than Wells Fargo in San Francisco.
ICBC Chairman Jiang Jianqing may be hoping that history doesn't repeat: his bank's shares soared to a record high during the Chinese bull market of 2007 then crashed when the bubble burst. Still, analyst Steven Chan, of Maybank Kim Eng Securities Pte in Hong Kong, argues that Chinese banks' gains may be supported by monetary easing lowering their funding costs and limiting bad loans.
China has cut interest rates and lenders' reserve requirements twice since November.
"The next round of the rally is likely to be related to some of the foreign institutional investors realizing that they've been too pessimistic about China's banks," Chan said.
The stock boom in China, partly driven by an increase in investors buying shares on credit, means that the nation's big state banks account for four of the world's top six lenders by market value, compared with a year ago, when only ICBC and China Construction Bank Corp. made the list.
Chinese banks remain the cheapest in the world, trading at about 7.8 times estimated earnings for 2015, the lowest for lenders with a market value of more than $10 billion, data compiled by Bloomberg show. ICBC, which was founded in 1984, trades at 1.1 times estimated book value, compared with 1.6 times for Wells Fargo.
Besides monetary policy, ICBC's shares are also getting a boost from domestic investors betting with borrowed money. Brokerages had extended more than 120 billion yuan ($19 billion) for purchases of banking shares as of April 20, including 7.5 billion yuan for ICBC stock, according to data from the Shanghai and Shenzhen stock exchanges.
— With assistance by Jun Luo
Before it's here, it's on the Bloomberg Terminal.
LEARN MORE