Hamptons Million-Dollar Homes Bolster Real Estate Sales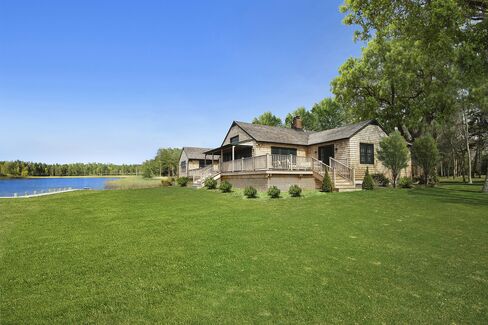 Hamptons home sales climbed in the first quarter, pushing up prices as buyers in the eastern Long Island resort towns sought more million-dollar properties.
The median price of all Hamptons homes that sold in the three months through March was $920,500, up 4.6 percent from a year earlier, brokerage Douglas Elliman Real Estate and appraiser Miller Samuel Inc. said in a report Thursday. Transactions rose 2.5 percent to 541, led by an increase in deals in the $1 million to $5 million range.
"That's the bread and butter of the newer product in the Hamptons," said Jonathan Miller, president of Miller Samuel and a Bloomberg View contributor. "Wall Street is part of this, as well as the foreign buyers."
New York City's financial industry, a leading contributor to the strength of the Hamptons home market, added 8,400 jobs in the 12 months through March, according to the state Department of Labor. Wall Street's bonus pool gained 3 percent to $28.5 billion last year, state Comptroller Thomas DiNapoli estimated.
Homes priced between $1 million and $5 million accounted for 38 percent of Hamptons sales in the first quarter, up from 36 percent a year earlier, according to Miller.
"We're driven by Wall Street and I think there's a general good mood," said Enzo Morabito, a broker with Douglas Elliman who works in the firm's Bridgehampton and Westhampton offices.
Anderson Cooper
Among Morabito's sales in the quarter was a four-bedroom waterfront cottage in Quiogue owned by CNN broadcaster Anderson Cooper. The 3,800-square-foot (353-square-meter) English country-style home sold for $2.98 million in February, seven months after it was offered for sale at $3.6 million, according to property listings.
The most expensive deal in the quarter was the $30 million purchase of a land parcel at 64 Further Lane in East Hampton, completed on March 2, said Miller, citing a Long Island data service. It was part of a three-lot purchase by Barry Rosenstein, managing partner at hedge fund Jana Partners. The other two transactions closed previously.
In the East Hampton and Wainscott areas, the median sale price jumped 17 percent in the first quarter to $780,000, according to a separate report Thursday by Corcoran Group. The brokerage said transactions fell 15 percent, as the housing market was hurt by bad weather.
East of the Shinnecock Canal -- including towns such as East Hampton, Southampton and Water Mill -- purchases for at least $1 million made up 57 percent of deals, Corcoran Group said.
Mortgage Borrowers
Across the Hamptons, the share of sales from $1 million to $2 million increased in the quarter to 28 percent from 25 percent a year earlier, according to the report. Properties in that range attracted second-home buyers who generally use a mortgage for their purchase, said Ernest Cervi, the managing director who oversees Hamptons home sales for Corcoran Group.
"Interest rates might rise so it's certainly a good time, if you're going to get financing, to do it now," Cervi said.
Before it's here, it's on the Bloomberg Terminal.
LEARN MORE