Google's Schmidt Buys 20% in Hedge Fund D.E. Shaw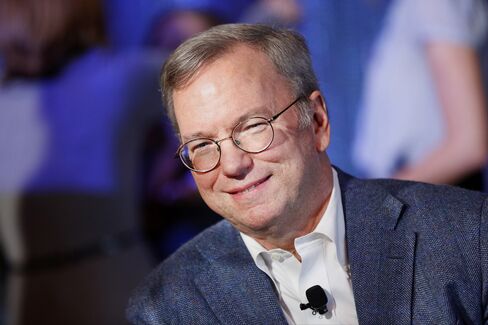 Eric Schmidt, the billionaire chairman of Google Inc., bought a 20 percent stake in $36 billion hedge fund manager D.E. Shaw that was previously held by Lehman Brothers Holdings Inc. No price was disclosed.
Schmidt bought the stake through Hillspire LLC, the investment firm that manages his wealth, according to a statement Thursday. The stake is passive and there won't be any changes to management or operations of New York-based D.E. Shaw, the companies said.
"I'm excited to invest in an enterprise that has so successfully used technology to deliver superior risk-adjusted returns across asset classes globally," Schmidt, 59, said in the statement.
D.E. Shaw was founded in 1988 by David Shaw, 64, a former Columbia University computer science professor. The hedge fund, which specializes in using computer models to identify money-making opportunities, has branched out to oversee credit, infrastructure and venture capital. Lehman bought its holding in March 2007, more than a year before the investment bank went bankrupt. D.E. Shaw oversaw $29 billion when Lehman purchased the stake.
Schmidt said he's been a longstanding investor in D.E Shaw's hedge funds. He's worth $8.8 billion, according to the Bloomberg Billionaires Index.
High Fees
D.E. Shaw charges clients among the highest fees in the industry. Clients pay as much as 3.5 percent of assets and a levy on profits of as much as 35 percent, according to a government filing.
D.E. Shaw's hedge funds have returned a combined 8.4 percent in the first quarter, according to a person with knowledge of the returns who asked not to be identified because the information is private. Hedge funds have posted an average gain of 1.9 percent in the same period, according to data compiled by Bloomberg.
Shaw ceded oversight of his firm to a six-person committee in 2002. He spends most of his time as a chief scientist at D.E. Shaw Research, which conducts research in computational biochemistry.
Before it's here, it's on the Bloomberg Terminal.
LEARN MORE