Ex-China Security Czar Oversaw Aide's Pay-Offs, Prosecutors Say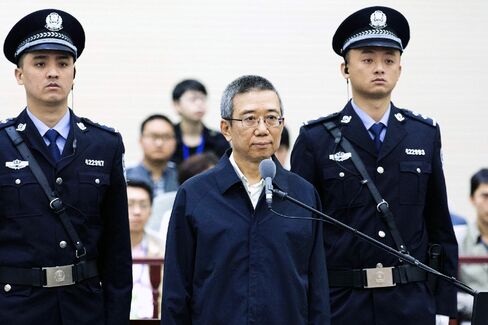 The Communist Party official whose downfall ushered in China's graft crackdown admitted to taking bribes and abusing power under the instructions of the country's retired public security czar.
Li Chuncheng, 59, a former deputy party chief in China's Sichuan province, said Thursday that he and his wife accepted more than 39 million yuan ($6.3 million) in pay-offs between 1999 and 2012, according to the official Xinhua News Agency. The admission came after prosecutors told Xianning Intermediate People's Court that Li's actions were supervised by the ex-security chief, Zhou Yongkang.
"The bribery and abuse-of-power crimes I committed severely harmed the party and public interest," Li testified, according to Xinhua. "I sincerely admit to guilt and repent, and am willing to accept the legal punishments."
The case was one of several high-profile prosecutions being wrapped up ahead of the trial of Zhou, who was Li's boss before going on to lead the Ministry of Public Security. Li's detention in December 2012 -- less than a month after President Xi Jinping took power -- was a sign that the new leader's graft crackdown could shake the highest levels of state power.
The investigation will culminate in the trial of Zhou, who, as a former member of the Politburo Standing Committee, is China's most senior official to face corruption charges.
"The case was the breakthrough of the investigation into Zhou," said Zhang Ming, a professor of political science at Renmin University in Beijing. "Zhou's downfall had been just speculation, but the announcement of the Li probe laid everything out to the public and told them that the authorities would go after Zhou."
High Fliers
Xi's campaign to flush out high-level "tigers" as well as lowly "flies" had ensnared more than 100,000 party cadres as of December, according to the Central Commission for Discipline Inspection.
The crackdown is still reverberating through the markets in its third year, as once high-flying officials swear off luxury goods, forgo banquets and steer clear of casinos in the Chinese gaming enclave of Macau. A graft investigation sparked the financial woes of Shenzhen-based Kaisa Group Holdings Ltd., which this week became the first local developer to default on its dollar debt.
Prosecutors said in court Thursday that Li abused his power to seek profits for others from property development and contracts, according to Xinhua. He illegally accepted money and goods directly or through his wife, which constitutes the crime of accepting bribes, the state news agency said.
No Appeal
About 60 people attended the trial, the court said on its official Weibo account, posting two pictures of the gray-haired former official. Prosecutors said Li had returned most of the ill-gotten money, showed repentance and provided "meritorious" service, suggesting the court should show leniency, Xinhua said.
"Li will not appeal the verdict," his lawyer, Shi Yuchen, said by phone Thursday. "He said he'll accept any verdict ruled by the court."
The case follows that of Jiang Jiemin, a former China National Petroleum Corp. chairman and another ally of Zhou, who pleaded guilty of accepting bribes and abusing power last week after one day of proceedings.
Zhou is awaiting trial for allegations of leaking official secrets and accepted "huge bribes" personally and through his family.
— With assistance by Keith Zhai, and Ting Shi
Before it's here, it's on the Bloomberg Terminal.
LEARN MORE