Finest Coffee From Colombia Rebel Heartland Sells at Auction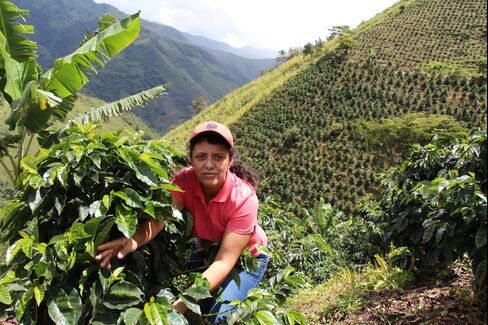 The steep mud track to Astrid Medina's farm in the Andes traces the tragedies of Colombian life -- and its potential.
Four miles outside the town of Planadas, a statue of the Virgin Mary marks the spot where her mother and brother were swept by a landslide into the river below. Further on, the road winds past a cross where her father, a community leader, was ordered from a bus and shot by Marxist guerrillas.
Beyond that, 1,800 meters (5,900 feet) above sea level, lies Medina's Buenavista farm, and the best coffee beans in the country, according to a panel of international judges.
"Our secret is the local environment. And there's also an element of luck, plus the hard work," Medina said of the award in an April 19 interview at her home. "We may have the best coffee but we're still lacking a lot."
Coffee produced by Medina and runners-up in Colombia's 2015 Cup of Excellence competition held last month was auctioned Thursday, as the country seeks to tap strong demand for so-called specialty coffees.
Medina's coffee sold for a total of $36,062, or $14.50 per pound (0.45 kilogram), more than ten times the price commanded by Arabica on the ICE Futures U.S. exchange in New York. The top bidder was Colombian company Banexport, Lindsay Amor from the Alliance for Coffee Excellence said by phone from Portland, Oregon.
Fruity Notes
Colombia's National Federation of Coffee Growers says it wants to increase sales of the added-value coffees to 70 percent of total exports by 2020, from 35 percent currently.
Organic, Fairtrade and Rainforest Alliance coffees all command higher prices than regular Colombian coffee, which itself trades at a premium over other grades on world markets.
Buenavista's winning beans have medium-high acidity, a creamy body with sweet and fruity notes, according to judges who gave it 90 points out of a maximum 100 on March 13.
Companies including Starbucks Corp. and Caravela Coffee LLC have visited the area, which this year produced six of the top 20 entries.
"Many farmers here are using the best agricultural practices," Manuel Salas, an agronomist and local federation representative, said this month. "Geography and vegetation also play a big part. There's an abundance of clean water and rich soil, with lots of citrus and cedar trees."
Pot to Beans
Coffee and other legal crops have largely replaced the opium poppies and marijuana farms that were once common in the area, after the army stepped up its presence in the region over the last decade.
The hamlet of Marquetalia, where communist farmers fought the army in 1964, in a battle that gave birth to the Revolutionary Armed Forces of Colombia, or FARC, is roughly five miles from the Buenavista farm. The FARC, the group that murdered Medina's father, has held talks with the government in Cuba since 2012, seeking a deal to end the country's five-decade internal conflict.
Medina says she will spend the money from Thursday's auction to improve infrastructure on her farm and seek new markets for her prized beans.
"I'm considering setting up a brand, so our coffee is known as Buenavista at the international level," she said. "The international market is much better that the domestic one. There's a stronger culture of drinking good coffee, and they pay more."
Before it's here, it's on the Bloomberg Terminal.
LEARN MORE