Emergency Rate Rise Recalled as Lira Tumbles on Basci Tinkering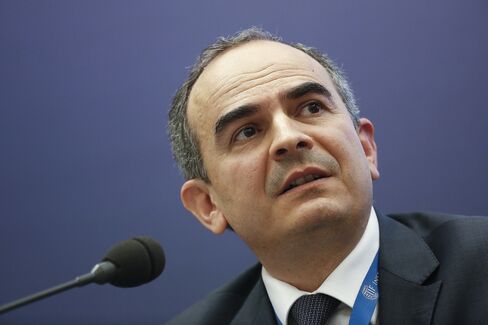 Turkey's attempts to arrest the world's worst currency slide without raising interest rates are giving investors a feeling of deja-vu.
Keeping the central bank's three benchmarks intact this week, Governor Erdem Basci instead adjusted rates on foreign-exchange loans and bank reserves; the lira fell further. Adjustments to marginal rates failed to halt a 15 percent depreciation that forced Basci to more than double the core one-week repurchase rate in January 2014.
"We see a fair chance of the central bank being forced to resort to a hike to defend the currency like they did in 2014," Gokce Celik, an economist at Finansbank AS in Istanbul, said by phone Wednesday. "Further weakness in the lira might ultimately lead to a substantial rate hike in the post-election period."
Basci, who some government ministers labeled a coward, a traitor and the servant of foreigners for failing to cut interest rates this year, is sticking to tools least likely to revive criticism before June 7 parliamentary elections. The government's pressure on monetary policy has eroded investor confidence, sending the lira 14 percent lower against the dollar this year while domestic bond yields have increased the most in emerging markets.
Policy makers left the benchmark rate at 7.5 percent for a third month on Wednesday, while the overnight lending and borrowing costs were kept at 10.75 percent and 7.25 percent, respectively. They lowered the cost of one-week foreign exchange lending in euros and dollars and increased interest payments to banks for their lira reserves.
Record Low
The lira fell as much as 1.3 percent to 2.7212 versus the dollar after the decision on April 22. It weakened to a record 2.7425 on Friday, bringing this year's slump to 15 percent, the most among 24 emerging markets monitored by Bloomberg.
The central bank has also opted for tightening liquidity through its money-market operations, pushing the cost of overnight interbank borrowing to 10.74 percent from a more than six-month low of 7.75 percent in August. That's still not enough, according to Goldman Sachs Group Inc. London-based analysts Ahmet Akarli and Mark Ozerov.
Rate Risks
"The central bank will likely have to tighten lira liquidity conditions further over the coming weeks, increasing the risk that more substantive lending-rate hikes may ultimately be required to stabilize the exchange rate," they wrote in an e-mailed note on Wednesday.
Even after the lira fell to records this year, taking inflation into account it's still stronger than it was in January 2014. The real-effective exchange rate was at 104.5 in March, 8.3 percent higher than 2014's low.
Morgan Stanley, which in 2013 labeled Turkey one of the so-called "Fragile Five" nations most vulnerable to tightening in the U.S., said last month that while some of the countries at risk have adjusted, Turkey, Brazil, Russia and South Africa haven't.
Delays in the Federal Reserve's decision to raise rates will only temporarily benefit the lira, which should touch new lows by the end of the year, according to Tatha Ghose, an economist at Commerzbank AG in London.
New Lows
"We wouldn't be surprised to see the lira calm down when the Fed does not move in June," Ghose said by e-mail. The currency could strengthen to 2.65 before sliding to around 2.75 by the end of 2015, he said.
Investors have pushed back bets for the U.S. to raise rates toward year-end, according to data compiled by Morgan Stanley. Turkish consumer prices rose 7.6 percent in March, according to official data. While that's down from a peak of 9.7 percent last May, it's the second consecutive increase this year.
The central bank may have more room to boost rates after the elections, according to Selim Cakir, the chief economist at Turk Ekonomi Bankasi AS in Istanbul.
"We remain convinced that the bank needs to adopt an orthodox framework soon to contain lira depreciation with a minimum cost," he said in an e-mailed note on Wednesday.
Before it's here, it's on the Bloomberg Terminal.
LEARN MORE