Dow Profit Beats Estimates as Oil Drop Boosts Plastics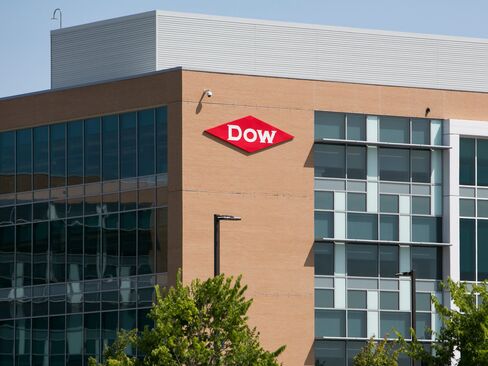 Dow Chemical Co., which added four new directors this year under pressure from activist investor Third Point LLC, posted first-quarter earnings that beat analysts' estimates as lower raw-material costs widened plastics margins.
Net income rose to $1.18 a share from 79 cents a year earlier, Midland, Michigan-based Dow said Thursday in a statement. Profit excluding some items was 84 cents, exceeding the 76-cent average of 19 estimates compiled by Bloomberg. Sales declined to $12.4 billion from $14.5 billion, missing the $13 billion average estimate.
Chairman and Chief Executive Officer Andrew Liveris agreed last month to sell the chlorine business, on which the company was founded 118 years ago, and focus on more profitable units such as plastics packaging. Profit margins were the widest in a decade, led by a 5.6 percent gain in plastics, Dow's largest unit, as costs tumbled for oil and natural gas liquids such as propane.
"Lower costs more than offset price and currency headwinds," Charles Neivert, an analyst at Cowen & Co. who has a hold rating on the shares, said in a note.
Average selling prices dropped 15 percent, largely due to a stronger dollar that reduced earnings by 10 cents a share, Dow Chief Financial Officer Howard Ungerleider said on a conference call. Sales volumes rose 1 percent, led by a 10 percent gain in the greater China region.
Dow rose 1.5 percent to $50.76 at 1:16 p.m. in New York. The shares have gained 11 percent this year.
Plastics Earnings
Profit rose in four of Dow's five business segments, with agriculture being the exception. Plastics earnings increased 2 percent to $985 million despite a 23 percent drop in sales.
In January, Dow's board gained two members backed by Third Point, the hedge fund founded by Dan Loeb, along with two other independent directors. The accord avoided a proxy fight with Third Point, which had criticized Liveris' performance and called for a break up of the chemical maker.
Liveris has defended the company's integrated model. He's argued that Dow is more profitable because it produces commodity chemicals for use in higher-value products such as pesticides and plastic films for packaging.
In the meantime he has embarked on a program to divest lower-margin assets. Liveris said Thursday that proceeds from those sales will now exceed $11 billion, after the March 27 agreement to sell Dow's chlorine business to Olin Corp. The previous forecast was for proceeds of as much as $8.5 billion.
The CEO also said new plants in the U.S. and Saudi Arabia, which will begin to come online later this year, will add $3 billion to annual earnings before interest, taxes, depreciation and amortization after 2016. The end of construction on those projects will cut capital spending and boost cash flow, Dow said.
Before it's here, it's on the Bloomberg Terminal.
LEARN MORE