Treasuries Rise First Time in Four Days as Haven Demand Climbs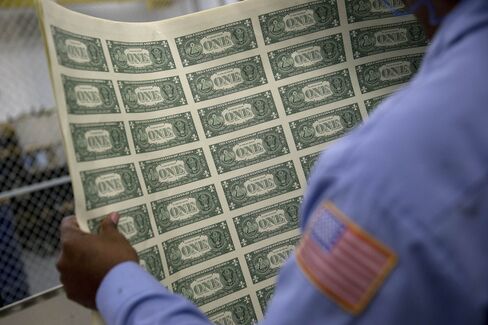 Treasuries advanced, halting a three-day decline, as signs growth is slowing in China and Europe boosted demand for the safest assets.
U.S. government bonds also gained before reports due Thursday that, according to economists, will show new-home sales dropped last month and that the number of people continuing to receive jobless benefits rose in the most recent week surveyed. A Chinese manufacturing gauge fell to a 12-month low in April as similar measures showed a deterioration in Germany and France.
"Concern about the economic outlook in China and Europe is providing support for Treasuries," said Nick Stamenkovic, a fixed-income strategist at Edinburgh-based broker RIA Capital Markets. "In the U.S., the key issue for investors is whether first-quarter weakness is short-lived or signals a more pronounced slowdown."
The benchmark U.S. 10-year yield dropped one basis point, or 0.01 percentage point, to 1.97 percent as of 8:17 a.m. in New York, according to Bloomberg Bond Trader data. The 2 percent note due in February 2025 rose 3/32, or 94 cents per $1,000 face amount, to 100 8/32.
The yield has dropped by about 20 basis points since the start of the year amid signs the U.S. recovery is losing momentum, reducing pressure on the Federal Reserve to raise interest rates.
Uneven Recovery
While U.S. payroll gains topped 200,000 in January and February, they slowed to 126,000 in March. Retail sales, gross domestic product growth and inflation are other weak spots in the world's largest economy.
The Fed will probably lift borrowing costs for the first since 2006 at its December meeting, according to a Morgan Stanley index. About a month ago, the outlook was for a September increase.
"There's more of a split in the market than a few months ago as to whether the next big move is up or down for yields," said Richard Kelly, global head of strategy at Toronto-Dominion Bank in London. "We're still generally biased to be long Treasuries into June. There's still a tremendous demand for fixed income and duration. Even with the Fed hiking twice this year as we expect, it's hard to expect 10-year yields to move higher than 2.40 by year-end."
A long position is a bet an asset's price will rise.
Pacific Investment Management Co. said the Fed is keen to move away from near-zero interest rates and will probably start tightening policy in September.
"The market is pricing about a 30 or 35 percent probability, but we think it's closer to 70 to 75 percent," Mihir Worah, Pimco's chief investment officer for return and asset allocation, said in Sydney. "The only thing that's keeping them here is inflation. We're not going to get runaway inflation, but there is a trend of inflation starting to rise."
The U.S. 10-year break-even rate, a gauge of the inflation outlook derived from the yield difference between Treasuries and index-linked securities, has risen to 1.87 percentage points, from 1.77 at the end of the first quarter.
The five-year break-even rate was little changed at 1.69 percentage points before the U.S. Treasury sells $18 billion of five-year inflation-linked notes on Thursday.
(An earlier version corrected the location of Pimco's Worah.)
Before it's here, it's on the Bloomberg Terminal.
LEARN MORE