China Eastern Shares Surge After Announcement of New Share Sale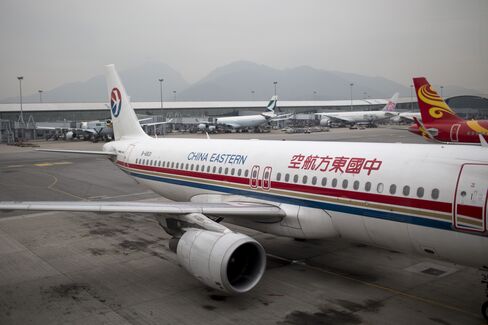 China Eastern Airlines Corp. jumped as much as 13 percent in Hong Kong trading after the carrier said it plans to sell new stock to buy planes and fund an expansion.
Friday was the first day of trading for the stock after a two-week halt, during which the Shanghai Composite Index rose 12 percent, while Hong Kong's Hang Seng Index rose 3.3 percent.
China Eastern plans to raise as much as 15 billion yuan ($2.4 billion) selling stock to fund the purchase of 23 planes and pay off debt, the carrier said in a statement to the Hong Kong stock exchange Thursday. Gains in Chinese stocks have prompted a number of companies, including Hainan Airlines Co., to sell new shares to take advantage of higher valuations.
"The proposed plan is better than our expectation," considering that only A-shares will be placed, Jefferies Hong Kong Ltd. analysts Boyong Liu, Johnson Leung and Violet Gu wrote in a report. "We do not expect any further issuance in the coming years."
China Eastern traded up 5.8 percent at HK$6.25 as of 10:22 a.m. in Hong Kong. Its Shanghai-listed shares were up 10 percent at 8.6 yuan.
China Eastern plans to issue as many as 2.3 billion new yuan-denominated A shares for at least 6.44 yuan each. The stock traded at 7.82 yuan on April 9 before it was halted for trading. The stock sale would be equal to about 18.4 percent of outstanding shares before the sale, the company said.
The airline said it plans to buy Airbus Group NV A321 jets and Boeing Co. 737-800 and 777-300ER planes with the new funds. The stock sale is subject to approval by shareholders and by Chinese regulators, according to the statement to the exchange. The company also said it will use the funds to pay down 3 billion yuan in debt.
Before it's here, it's on the Bloomberg Terminal.
LEARN MORE