Top Nordic Currency Trader Warns of QE-Driven Stock Surge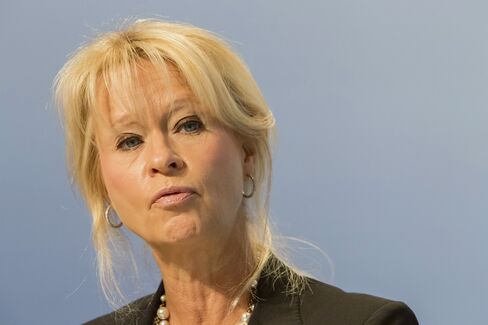 An historic surge in stock markets that's being fueled by central-bank cash injections is more a cause for concern than for jubilation.
That's according to Annika Falkengren, the chief executive officer of SEB AB, Scandinavia's biggest foreign-currency trading bank.
"Central banks continue to supply the markets with liquidity and that then ends up in the stock exchanges," Falkengren, 53, said in an interview in Stockholm on Thursday. "There's still a lot of artificial liquidity that's coming and that you need to respect. It's difficult to know how the situation should be handled."
In SEB's home market of Sweden, the central bank has fought back a deflationary quagmire by cutting its repo rate to minus 0.25 percent and starting asset purchases. In neighboring Denmark, where SEB also operates, the central bank is struggling to defend the krone's peg to the euro by fighting back a capital influx. Its main rate is now minus 0.75 percent. Meanwhile, the European Central Bank's unprecedented quantitative easing program is flooding the euro zone with liquidity.
"Stock markets are up and interest rates are at zero," Falkengren said. This "calls for reflection."
The result is soaring asset prices and rising volatility. SEB, which reported first-quarter profit that beat analysts' estimates after booking fewer credit losses than expected, said the "exceptional times" banks face are turning "economic relationships upside down."
Stock Records
Sweden's benchmark index of the country's most-traded stocks touched a record on March 20, while SEB's stock a day earlier reached its highest level since October 2007. The Stoxx 600 of Europe's most-traded companies hit a record on April 15 and is up about 19 percent this year.
SEB said its clients are responding to the market climate by demanding more hedging and risk-management services. The trend has buoyed earnings in the bank's Markets unit, where "there was high activity because they needed to hedge different flows," Falkengren said.
Operating income at SEB's Merchant Banking division, which contains the Markets unit, rose 6.7 percent to 4.65 billion kronor ($540 million) in the first quarter from a year earlier, "primarily driven by increased demand for currency and interest rate products," SEB said. Operating profit gained 8 percent to 2.4 billion kronor.
SEB is also cautioning against unfettered growth in Swedes' borrowing habits. Households owe their creditors about 175 percent of disposable incomes, more than at any time in the country's history. The Swedish Financial Supervisory Authority on Thursday said a plan to set stricter amortization standards designed to curb debt growth had been blocked by a local court.
Falkengren said the message from the FSA was "very unfortunate."
Before it's here, it's on the Bloomberg Terminal.
LEARN MORE