Cameron Pledges English Manifesto to Offset Scottish Powers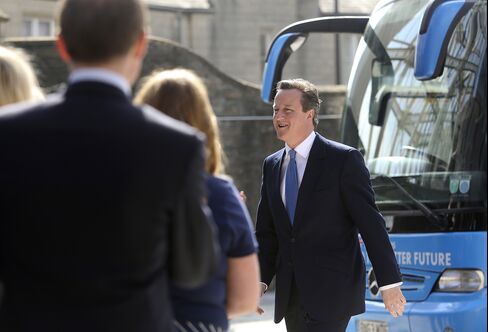 Prime Minister David Cameron pledged to deliver a manifesto for England, giving its lawmakers a right of veto over issues only affecting their constituents and limiting their Scottish counterparts' ability to vote on them.
The Tory leader promised Friday in a speech in Lincoln, eastern England, to deliver an English rate of income tax and "English votes for English laws" within a year of being re-elected. The document will go alongside Scottish, Welsh and Northern Irish manifestos.
With two weeks to go before the election, Cameron is seeking to win back votes he's lost to the U.K. Independence Party, as well as playing to the Conservatives' strategy of warning voters of the potential pitfalls of a Labour government allied to Scottish nationalists. Polls have consistently suggested neither the Conservatives nor the Labour opposition are set to win a majority in Parliament.
It will also please many within the Tory party. Cameron had promised to address the issue of English votes the day after Scotland narrowly opted to stay in the U.K. on Sept. 18. That referendum may have been influenced by the three main U.K. parties' promise to give the Scottish Parliament more powers over tax and legislation. Since then, membership of the Scottish National Party -- which ultimately seeks independence from the U.K.-- has more than tripled.
'Complicated' Picture
"This manifesto simply recognizes that the democratic picture has got more complicated in the U.K.," Cameron said. "Beyond our main manifesto, English voters deserve one document, clarifying in black and white what they can expect."
Scotland, which already has control over legislation, health and transport, is set to gain power over income tax. The legislatures in Northern Ireland and Wales also have powers to decide their own policies in some areas. There's no separate assembly for England.
Proposals implementing English votes for English laws will be brought forward within the first 100 days of a new government and fully implemented in time for the first budget of the new parliament in March 2016, Cameron's office said. They don't include a move toward creating an English parliament.
The initiative will also mean Scottish lawmakers would lose some of their powers in the House of Commons. The SNP is predicted to win a majority of seats from Labour on May 7, making it the U.K.'s third-largest party.
"English MPs will be unable to vote on the income tax paid by people in Aberdeen and Edinburgh while Scottish MPs are able to vote on the tax you pay in Birmingham or Canterbury or Leeds," Cameron said. "It is simply unfair. And with English votes for English laws we will put it right."
Before it's here, it's on the Bloomberg Terminal.
LEARN MORE