British Markets Fear Lurch Left or Right, Liberal Democrats Say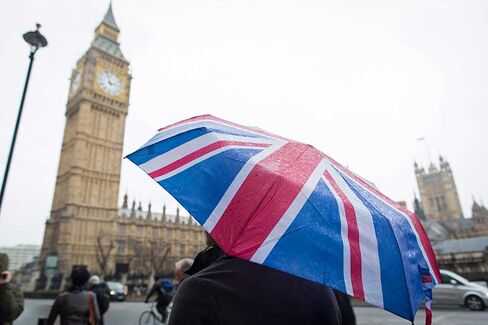 Investors would prefer a center-ground government to continue the U.K.'s recovery after the May 7 election, according to the Liberal Democrats.
The Liberal Democrats said their review of statements by British banks, ratings agencies and economists found warnings about both the Conservative party, which plans to cut public spending and to hold a referendum on European Union membership, and the opposition Labour party, which they say could borrow too much in an alliance with the anti-austerity Scottish National Party. The Liberal Democrats are aiming for a level of deficit control between that of Labour and the Conservatives, according to the Institute for Fiscal Studies, an independent research group.
With the two biggest political parties neck-and-neck in the polls, investors are bracing for the possibility of coalition negotiations or a minority government reliant on smaller parties to get legislation through Parliament. Bookmaker William Hill Plc made a new Tory-Liberal Democrat coalition the most likely deal after the vote, even though the latter party is set to lose seats.
An unstable government with the presence of the SNP or the U.K. Independence Party would jam up the economic recovery, Liberal Democrat Chief Secretary to the Treasury Danny Alexander said in a statement. "That would be an economic disaster for Britain, and an insult to the massive effort and the many sacrifices made by millions of people and businesses who are powering our recovery."
The Liberal Democrats said the threat of a departure from a stable coalition government has already caused volatility in the sterling and gilt market. "Businesses, the City and markets all fear an economic lurch to the right or left," the party said.
The Institute for Fiscal Studies said Thursday that Britons are being left "in the dark" about the scale of spending cuts or tax increases facing them after the election. The Liberal Democrats have been more transparent than the other parties about their overall fiscal plans for the next parliament, the IFS said in their election briefing.
Before it's here, it's on the Bloomberg Terminal.
LEARN MORE